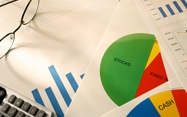 If you remember when gas cost $1.24 a gallon, then you already know the basic concept of inflation: Prices rise over time. Why should you care about inflation? The more things cost, the less your money buys over time. Though you can't control the fact that the cost of the goods and services will likely keep going up, you should factor the effects of inflation into your overall planning strategy. Here are some things to consider.
Measuring inflation
The consumer price index is one tool that measures inflation. The Bureau of Labor Statistics calculates the index by collecting data on a sample of goods and services that are representative of the economy as a whole. In turn, the Federal Reserve (the central banking system in the U.S.) uses its influence to manage economic growth and the inflation rate.
Understand the impact of inflation
Inflation impacts the cost of goods and services over time. For example, if your current monthly expenses are $3,000, they'll be almost $3,600 in 10 years if there's a 2% annual inflation rate. In 25 years at that same 2% inflation rate, your monthly costs would be more than $4,800.
When considering your investments, it's important to consider whether your investments have the potential to at least keep pace with the rate inflation so that you can have the same or more purchasing power in the future.
Empower yourself with financial knowledge
We're committed to your financial success. Here you'll find a wide range of helpful information, interactive tools, practical strategies, and more — all designed to help you increase your financial literacy and reach your financial goals.
Source: U.S. Bureau of Labor Statistics, "Frequently Asked Questions (FAQs)."
Investment and Insurance Products are:
Not insured by the FDIC or any Federal Government Agency
Not a Deposit or Other Obligation of, or Guaranteed by, the Bank or Any Bank Affiliate
Subject to Investment Risks, Including Possible Loss of the Principal Amount Invested
Investment products and services are offered through Wells Fargo Advisors. Wells Fargo Advisors is a trade name used by Wells Fargo Clearing Services, LLC (WFCS) and Wells Fargo Advisors Financial Network, LLC, Members SIPC, separate registered broker-dealers and non-bank affiliates of Wells Fargo & Company.
WellsTrade® and Intuitive Investor® accounts are offered through WFCS.
Wells Fargo Wealth Management provides products and services through Wells Fargo Bank, N.A., and its various affiliates and subsidiaries. Wells Fargo Bank, N.A. is a bank affiliate of Wells Fargo & Company.
Wells Fargo and Company and its affiliates do not provide tax or legal advice. Please consult your tax and legal advisors to determine how this information may apply to your own situation. Whether any planned tax result is realized by you depends on the specific facts of your own situation at the time your taxes are prepared.
This information is provided for educational and illustrative purposes only and is not a solicitation or an offer to buy any security or instrument to participate in any trading strategy. Investing involves risk, including the possible loss of principal. Since each person's situation is different, you should review your specific investment objectives, risk tolerance, and liquidity needs with your financial professional before selecting a suitable savings or investment strategy and to see how this information may apply to your specific situation.
Past performance does not indicate future results.
Deposit products offered by Wells Fargo Bank, N.A. Member FDIC.