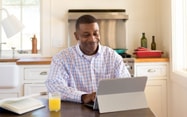 We all have dreams for the future, and many of those dreams require money and planning to make them come true. Perhaps you want to buy a place you can call home, travel to Europe with your dearest friend, or start saving to send your children to college. Reaching those milestones starts with setting clear financial goals.
Define your goal clearly
A goal is the first step that sets you on a path. What matters most to you? What can help you stay the course?
A realistic goal should also be:
Achievable. Use your income (and expected income) to set your goals for the future. Don't count on winning the lottery to achieve what you want.
Specific. "To get richer" is not a specific or clear goal, but "to pay for 50% of my child's tuition at a public university" is.
Measurable. Set a deadline for your goal, such as the age at which you want to retire, or the timeline for buying a new house.
Identify your time frame
Categorizing your objectives by short-term, medium-term, and long-term financial goals provides focus to your plan. It also helps you match your goals with the appropriate investment resources.
Short-term goals are those you hope to achieve within the next one to three years, like taking a special vacation or making a down payment on a new car. For short-term goals, consider investments with short-term maturity dates or savings vehicles that protect you from losing value.
Medium-term goals are three to five years away. Examples of medium-term goals include a down payment on a new house or funds to renovate your home. With medium-term investments or savings, you should still make sure you have access to your funds when you need them and without a penalty.
Long-term goals are more than seven years away. Some of life's biggest goals, including retirement, fall into this category. For your long-term goals, you may want to consider investments that may provide better returns over time. Consider speaking with a financial professional for guidance in investment decisions.
Monitor your progress
Monitor your progress towards achieving your goals. At each check-in, ask: Am I earning as much money as I expected with my investments and savings? Am I contributing enough?
If you're working with an investment professional, ask them how frequently you should meet to discuss your progress, and if you can check progress at other times on your own, too. If you're investing and saving without a professional, designate times to look at your account between now and when you need to reach your goal. Review your progress on a monthly basis for short-term objectives, and quarterly and annually for longer-term goals.
Empower yourself with financial knowledge
​​We're committed to helping with your financial success. Here you'll find a wide range of helpful information, interactive tools, practical strategies, and more — all designed to help you increase your financial literacy and reach your financial goals.
Investment and Insurance Products are:
Not Insured by the FDIC or Any Federal Government Agency
Not a Deposit or Other Obligation of, or Guaranteed by, the Bank or Any Bank Affiliate
Subject to Investment Risks, Including Possible Loss of the Principal Amount Invested
Investment products and services are offered through Wells Fargo Advisors. Wells Fargo Advisors is a trade name used by Wells Fargo Clearing Services, LLC (WFCS) and Wells Fargo Advisors Financial Network, LLC, Members SIPC, separate registered broker-dealers and non-bank affiliates of Wells Fargo & Company.
Wells Fargo Wealth Management provides products and services through Wells Fargo Bank, N.A., and its various affiliates and subsidiaries. Wells Fargo Bank, N.A. is a bank affiliate of Wells Fargo & Company.
WellsTrade® and Intuitive Investor® accounts are offered through WFCS.
Wells Fargo and Company and its affiliates do not provide tax or legal advice. Please consult your tax and legal advisors to determine how this information may apply to your own situation. Whether any planned tax result is realized by you depends on the specific facts of your own situation at the time your taxes are prepared.
This information is provided for educational and illustrative purposes only and is not a solicitation or an offer to buy any security or instrument or to participate in any trading strategy. Investing involves risk, including the possible loss of principal. Since each investor's situation is unique, you should review your specific investment objectives, risk tolerance and liquidity needs with your financial professional to help determine an appropriate investment strategy.
Asset allocation and diversification are investment methods used to help manage risk. They do not guarantee investment returns or eliminate risk of loss including in a declining market.
Past performance is not a guarantee of future results.
Deposit products offered by Wells Fargo Bank, N.A. Member FDIC.
CAR# 0820-01966