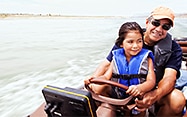 When it comes to insurance, it can be a bit unclear as to what exactly is and isn't covered. If you or someone you know owns or is planning to buy a specialty vehicle, such as a boat, motorcycle, or recreational vehicle (RV), it's important to keep in mind that homeowners or auto insurance policies provide limited or no coverage for these assets and additional coverage may be necessary.
Specialty vehicle insurance provides coverage for vehicles that are not typically covered under your standard homeowners or auto insurance policies such as a motorcycle, boat, or RV. The costs and policies under this type of coverage vary by vehicle type amongst other factors.
Motorcycles
Coverage options for motorcycles are similar to auto insurance, with the following coverages to choose from:
Liability insurance: Covers injuries and property damages to others from an accident you may have caused. Your insurance policy provides protection for damage to the property of others
Collision coverage: Pays for damages to your motorcycle caused by you, minus your deductible. Typically, it will only cover the actual cash value of your motorcycle before the accident
Comprehensive coverage: Covers damage from incidents other than collisions involving other vehicles. Examples include fire, theft, or vandalism. Keep in mind that any damages to aesthetic additions to your motorcycle will not be covered by your insurance policy
Uninsured/underinsured motorist coverage: Covers injuries and property damages to you caused by a driver that is underinsured or uninsured. It pays for medical bills, lost wages, amongst other damage related costs
Property Damage: Helps pay for damages to another person's property from an accident you caused
Guest Passenger Liability: Provides injury protection for your passengers and helps pay medical bills for passengers injured on your bike
Boats
Smaller boats, with less than 25 horse power, are generally only covered for liability coverage under homeowners insurance; however, larger and faster boats require specialty vehicle insurance to ensure proper coverage. There are two types of policies that you can choose from in the event of a loss:
Actual Cash Value: Pays for replacement costs minus the depreciation at the time of the loss
Agreed Amount Value: States that you and your insurance company have agreed on the value of your boat and you will be paid that amount in the event of a total loss
Most insurance companies start boat liability limits at $15,000 and policies can include deductibles of $250 for property damage, $500 for theft, and $1,000 for medical payments.
While the cost of your insurance will vary depending on your boat, you may be eligible for discounts if you have taken classes on boater safety. Ask your insurance agent about additional discounts that may apply.

Recreational vehicles (RVs)
RVs consist of the same coverage policies as your auto insurance. Keep in mind the medical payments coverage policy.
Medical payments coverage: Partially covers medical expenses for passengers injured while on your vehicle
With all the coverage options out there, you might not know which policies best fit your needs. If you have any questions regarding your insurance policies or are interested in additional coverage options, contact your insurance agency for more information.
Empower yourself with financial knowledge
We're committed to your financial success. Here you'll find a wide range of helpful information, interactive tools, practical strategies, and more — all designed to help you increase your financial literacy and reach your financial goals.
Products to consider