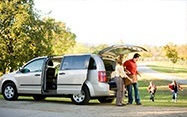 You've decided to hit the open road and see the sights. Whether you go alone or with family and friends and whether you are traveling 100 miles or 1,000 miles, you need to take precautions to help ensure you will make it to and from safely. You need to consider the weather you may encounter, changes in elevation and terrain, and the time of day you will most likely travel.
Vehicle care
Of utmost importance is to ensure your vehicle is in the proper condition for an extended drive, which is more than just filling the gas tank. Before you set off on your journey:
Have your battery, tire pressure, tire treads, alignment, and brakes checked
Top off your oil, coolant and antifreeze, and windshield wiper fluids
Check the windshield wiper blades
Confirm mirrors, windows, headlights, taillights, and brake lights are working properly
Test your heater and air conditioner
Ask a certified mechanic to look over engine hoses and belts, along with hitches if you plan on towing a boat or trailer (including trailer lights)
Ensure you have a properly-inflated spare tire, jack, and wrench in case of a flat
Plan your route
Part of the fun of a road trip may be exploring areas off the beaten path - whether by design or on a whim. But whether you have a sense of adventure or just want to drive straight through, you should put some thought into getting there and back.
Map out where you are going and potential rest points along the way, including sightseeing opportunities, restaurants, gas stations, rest stops, and hotels. You will also want to know the hours/days of operation and entrance fees for parks and attractions you intend to visit. Parks and attractions do not always accept credit cards or checks so remember to bring ample cash with you.
Pack appropriately
You may cross time zones, mountains, valleys, deserts, and urban areas. Each new area brings challenges from changing weather conditions, communications access, and even access to medical care.
Don't get caught off guard. Research the weather forecast and local construction reports for the trip timeframe. Avoid driving in heavy snow or rain, and avoid unfamiliar back roads and shortcuts that may not be well maintained. Make sure your attire is appropriate for the conditions where you are going, as well as all points in between.
Charge your phone in advance of leaving, bring a power cord, and consider buying and charging a backup battery supply for mobile devices. Also, don't forget to print copies of maps and directions in case you cannot get a cellular or GPS signal.
Include all required medications and copies of prescriptions. Prepare an emergency kit for the car that includes nonperishable food (e.g., energy bars, bottled water), toilet paper, first-aid kit, flashlight and fresh batteries, blanket, jumper cables, and baby food and supplies, if required. If there's a possibility that you'll be traveling through snow, pack an ice scraper, shovel, and a bag of sand or cat litter for traction support. Also, check the regulations along your route about snow chain requirements or restrictions.
Stay in touch
Don't be a stranger. It's important to be accountable before and during your road trip in case an unforeseen situation may arise.
Make a list of the addresses and phone numbers of the places and people you intend to visit, and share a copy with friends and family. Check in with a designated contact at various times throughout your trip to let them know you are safe. You may also want to purchase a calling card in the event your mobile battery runs out or you cannot get a signal.
Review your insurance coverage
Finally, contact your insurance agent to confirm your coverage levels and details. Here are some items you may want to consider.
Double check your policy expiration date and make provisions to renew your policy if it is due to expire during your trip
Review your policy and make sure coverage is sufficient for the trip you are planning
Consider possible coverage options, like additional collision and uninsured or underinsured motorist coverage, if you don't already have them
Confirm whether your policy includes towing and roadside assistance or if this is something you should consider adding or buying separately
Safety planning is your best roadmap to road trip success.
Empower yourself with financial knowledge
We're committed to helping with your financial success. Here you'll find a wide range of helpful information, interactive tools, practical strategies, and more — all designed to help you increase your financial literacy and reach your financial goals.