By learning the types of insurance you can purchase, you can begin taking essential steps to protect yourself, your loved ones, and your belongings. Here is a summary of what's available to help you protect what's most important:
Homeowners Insurance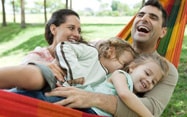 If you have replacement cost coverage, homeowners insurance will cover the amount it costs to rebuild your home, replace your personal belongings, and temporarily live somewhere else, if you're unable to live in your home due to a fire or other insured disaster. It also includes some liability protection if someone is injured or their property is damaged while they're on your property.
Renters Insurance
Renters insurance covers your personal belongings from loss caused by fire or smoke, lightning, explosion, windstorm or hail, and theft or burglary. Keep in mind this covers your property (not your roommate's), including possessions you keep in your car, garage, or storage unit.
Auto Insurance
Most states require auto owners to have auto insurance. Your insurance can also protect some of the property inside your car if it's damaged or stolen, and the costs to repair your car.
Life insurance
Term life insurance provides the largest amount of coverage for the lowest cost and provides coverage if you pass away during the term of the policy, which typically range from one to 30 years. Whole life insurance provides coverage no matter how many years have passed since you opened the policy.
Umbrella insurance
An umbrella liability policy provides additional liability insurance, above and beyond the limits in your auto, homeowners, or renters policy. An umbrella also provides liability coverage above and beyond the limits on your recreational vehicles. Your net worth and value of your assets help you determine how much coverage you should buy.
Empower yourself with financial knowledge
We're committed to helping you be financially successful. Here you'll find a wide range of helpful information, interactive tools, practical strategies, and more — all designed to help you increase your financial literacy and reach your financial goals.