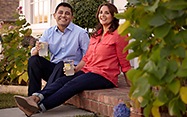 Your home may be one of your biggest assets. Choosing the right homeowners insurance is critical, not only for protecting your home, but also for protecting your belongings.
More than 40% of homeowners surveyed don't have or don't know if they have the coverage that will fully replace their belongings and home in the event of a disaster. When homeowners suffer a major or total loss of their property, they often learn that their homeowners insurance does not cover all the costs to repair the damage. You can avoid being part of this group by learning how much insurance you may need, and updating your policy accordingly.
When it comes to homeowners insurance, there is no one-size-fits-all policy. Everyone's situation is different. To determine the right amount of insurance for you, consider the following:
The structure of your home
You need enough insurance to cover the cost of rebuilding your house at current construction rates (this includes your garage, shed, or similar structures). Keep in mind that this is different from the current market value of the house or the original purchase price.
Things to consider:
Many homeowners haven't updated their policy and the insurance coverage they have may not have kept pace with the cost to rebuild the home.
Include all features of your house in the rebuild cost, such as:  flooring, counter tops, and the quality of materials used throughout the house.
Because flood damages are not covered by a standard homeowners policy, depending on where your house is located, you may want to consider adding flood insurance
"Here's a quick formula to estimate the cost of rebuilding = Total square feet of the house x local building costs/sq. ft"


The value of your personal belongings
In addition to protecting your house, it is also important to protect the things inside of it. You should have enough coverage to replace your possessions, including clothing, furniture, appliances, and electronics. Make sure you calculate the value of all of your belongings regularly by doing a complete home inventory. There are many tools available to help you create your inventory. These steps can help you get started:
Set aside time in your schedule.
Use a video camera, smart phone, or still camera to take pictures.
Store your inventory in a safe place.
Consider using an online home inventory tool.
Things to consider:
It is recommended to insure your belongings for "replacement cost," which would cover the cost of replacing your TV, rather than for "actual cash value," which would cover how much your TV is worth today, considering depreciation.
There are usually coverage limits for expensive items such as jewelry, silverware, furs, and fine art. Check these limits in your policy and consider buying extra coverage to insure such items.
If you run a business at home or have a home-based office, your homeowners insurance will likely limit coverage for any work-related items. You may want to consider adding extra coverage to your existing homeowners policy, if your insurance company offers this option, or purchasing a separate small business insurance policy.
The cost of additional living expenses
If your home suffers significant damage, your homeowners insurance covers expenses to live elsewhere, up to a limit, while your house is being repaired. The majority of policies usually cover up to 20% of the insured value of your house, but it varies by policy.
Things to consider:
If you rent part of your house, your homeowners insurance can reimburse you for the loss of income.
If you run a business at home or have a home-based office, you won't be able to claim any loss of income related to your business if something happened to your house. Consider a small business insurance policy or add additional coverage for this if your insurance company offers this option.
The amount of liability protection
This part of your homeowners insurance policy protects you against potential lawsuits that may result from accidents. It also can protect you from damages that you, your family, or your pets may cause to other people. It will cover costs such as your personal defense in a lawsuit, medical bills for others, and the damages you may be liable for—up to the limits of your policy.
Things to consider:
Most policies provide liability coverages of $100,000 to $300,000. However liability lawsuits costs can easily exceeds these amounts. For this reason, consider an umbrella policy that offers higher amounts of liability up to $5,000,000.
Factors such as the breed of your dog or adding a pool or trampoline may affect your eligibility and/or the cost of your homeowners insurance.
Consider adding extra liability protection through an umbrella insurance policy to protect your personal assets and your future income.
Knowing what to consider when buying homeowners insurance will help you select the right coverage for your needs and your budget, while giving you the confidence that both your home and belongings are properly protected.
Empower yourself with financial knowledge
We're committed to your financial success. Here you'll find a wide range of helpful information, interactive tools, practical strategies, and more — all designed to help you increase your financial literacy and reach your financial goals.