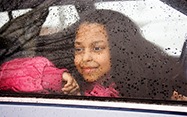 Driving may seem second nature to you as you go through everyday life. Even so, it's important to know how to handle driving in severe weather conditions in the event that nature decides to strike. Here are a few tips on how to be prepared:
Severe thunderstorms
Driving tips:
Stay inside your vehicle for protection and avoid any contact with metal-conducting items.
Keep your radio on to monitor severe thunderstorm warnings in your area.
Turn on your headlights and set them to low beam - in some states, this is required by law.
Flash floods
Driving tips:
Don't attempt to drive through flooded areas or standing water.
When possible, evacuate your car immediately and seek higher ground.
When encountering a barricade, try to abandon your vehicle for higher ground. You should never try to drive around it.
Hailstorms
Driving tips:
Try to find the closest gas station and park underneath the canopy to protect your vehicle.
Stay in your car - hail can cause serious injury.
Try to keep your car angled so hail hits your windshield. Side and back windows are more prone to damage.
Snow
Snow, sleet, ice and below freezing temperatures all have an effect on driving conditions.
Driving tips:
Make sure your exhaust pipe is clear. If your pipe is blocked, it could cause carbon monoxide leakage in your car while the engine is running.
Don't use your cruise control when driving on icy roads.
If your car gets stuck in snow, do not accelerate. Try using salt to melt the ice. As a last resort, you can also place your car mats underneath your tires to get better wheel traction. Slowly accelerate and make sure everyone is in a safe location, away from the car.
For all severe weather conditions, remember to drive cautiously and ensure that your vehicle's tire pressure and windshield wipers are properly maintained. Keep your charger and cell phone handy in case of an emergency. Additionally, it's a good idea to review your auto insurance on a regular basis to make sure the coverage on your policy still meets your needs. In any case, driving in severe weather is not advised. Stay alert, stay prepared, and safe travels.
Empower yourself with financial knowledge
We're committed to helping with your financial success. Here you'll find a wide range of helpful information, interactive tools, practical strategies, and more — all designed to help you increase your financial literacy and reach your financial goals.