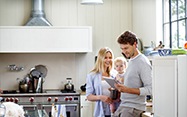 Is a jumbo loan a good option for you? Learn more about this type of home loan and make an informed decision.
What is a jumbo loan?
A jumbo loan is a non-conforming loan that provides financing for loan amounts larger than the normal limits set by Fannie Mae and Freddie Mac. You might consider a jumbo loan if you can manage larger monthly payments and the home you'll be buying has a high property value. Jumbo loans are available in a variety of fixed-rate and adjustable-rate options.
What are the loan limits for jumbo loans?
Generally, the minimum jumbo loan amount is $453,100 and the maximum jumbo loan amount varies between lenders.
What are the benefits of a jumbo loan?
Jumbo loans offer benefits for homebuyers who can handle the larger payments.
Jumbo loans provide home financing options for high-value properties.
A jumbo loan can offer the convenience of one loan and one monthly payment for the entire loan amount.
With a jumbo or non-conforming loan, you can choose from a variety of loan options.
Learn more about jumbo financing options to decide if a higher-limit loan is a good choice for you.
Empower yourself with financial knowledge
We're committed to helping you as you work toward financial success. Here you'll find a wide range of helpful information, interactive tools, practical strategies, and more — all designed to increase your financial literacy and help you reach your financial goals.