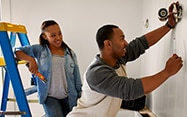 Before you buy a home that needs major renovations, ask yourself these questions.
Can you manage a home that needs major repairs?
Buying a home that needs major renovations – like rebuilding a foundation or replacing a heating system – can significantly strain your budget if you haven't saved enough money or don't have easy access to funds. If you're thinking about buying a project house, weigh the pros and cons.
With a fixer-upper, you may:
Get into a neighborhood or school district you prefer

Be able to purchase a unique type of home

Pay less upfront than you might for a home in better condition
However, a fixer-upper also requires to make renovations or repairs:
Money
Specialized skills
Time
Patience
What really needs to be fixed, who will do it, and when?
Hire an experienced contractor or home inspector to help determine what work is needed, how long it will take, and how much it will cost. Bear in mind that unexpected issues that surface during renovations can add time and cost to your project.
Next, figure out:
What you can do yourself and what needs a professional
Which repairs must be done first for safety, building code, budget, or other reasons
If you can live in the house during renovations or need to find somewhere else to stay
How will you pay for the work?
Once you know what needs to be done, you can decide:
If you need to negotiate a lower selling price to make up for renovation costs
What you need to save for future renovations or need to finance
Is the buying opportunity worth the challenges?
Depending on what needs to be done — whether it's a few rooms or the entire home — it could easily take months or even years to complete a major renovation. Make sure you have the skills, budget, and temperament for the kind of project you'll face and the ability to work with and pay professionals for anything you can't do yourself.
Are you really a fixer-upper type of person?
Are you ready for the fixer-upper challenge?
If the "pros" excite you more than the "cons" concern you, and you have the funds, skills, and patience you'll need, a fixer-upper may be right for you.
Empower yourself with financial knowledge
We're committed to helping you as you work toward financial success. Here you'll find a wide range of helpful information, interactive tools, practical strategies, and more — all designed to increase your financial literacy and help you reach your financial goals.