There are a lot of things to think about when you're buying a home. So how do you choose a home that's right for you, both now and in the future? Ask yourself the following questions.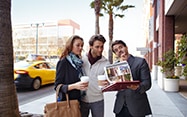 What can you manage?
It's a good idea to know how much you may be able to borrow before starting your search. Get prequalified so you know your loan amount range.
How do you feel about home improvements and renovations?
Consider the types of improvements or remodeling that would be needed. Before you buy a fixer-upper, think about whether you have the time, skills, and patience for large-scale projects.
Where do you want to be?
Do you want a short commute to work? How about walking distance to schools or shopping? Do you need to be near public transportation?
What are your current needs?
Once you know your target price range and location, think about what you want and need in a home.
Do you prefer a condominium, a townhouse, or a single-family home?
Do you want a formal living room, a casual family room, or both?
Do you prefer a separate dining room or an eat-in kitchen?
Do you need space for a home office?
How many bedrooms and bathrooms do you need?
Do you want a backyard, and does it need to have room for a garden or a pool?
What are your future needs?
Also think about how your needs may change over time.
Will you need bedrooms and bathrooms for family or friends?
Will extra family or friends eventually live with you, and will they need special accommodations?
Is there room for expansion if you want to add more rooms?
Will the home fit your budget now and in the future?
Consider how you'll handle expenses today and in the future. In addition to monthly mortgage payments:
Will you be able to manage monthly expenses, such as utilities?
Will you be able to save for large and small maintenance projects?
Will you be able to handle tax and insurance hikes?
Can you cover your expenses if you lose some of your income?
Putting it all together
With so many things to think about, it may take some time to find the perfect home. When you decide, your Wells Fargo home mortgage consultant can help you consider different loan types.
Empower yourself with financial knowledge
We're committed to helping you as you work toward financial success. Here you'll find a wide range of helpful information, interactive tools, practical strategies, and more — all designed to increase your financial literacy and help you reach your financial goals.