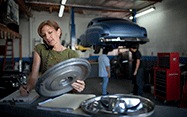 Whether you have a brand-new car or a used one, keeping up with maintenance can save you time and money in the long run. These tips will help you properly service your car and budget for maintenance.
Why is preventative car maintenance important?
A well-maintained, operating car is simply practical: It can help you get to and from work on time, transport your kids to school and activities, run errands, take care of household needs, go on driving vacations, and much more.
On top of that, conducting regular car maintenance can keep your vehicle safe and efficient, and provide peace of mind that your car runs smoothly. Regular service checkups minimize the risk of significant repairs and help prevent major breakdowns or accidents.
What type of preventative car maintenance do you need?
Whether you buy a new or used car, or lease a car, you'll need to perform regular maintenance. For example, regular oil changes keep your engine running smoothly.
Depending on the age of your car, the recommendations for oil change intervals vary greatly. The rule of thumb historically was every 3,000 miles, but advances in engine and oil technology have allowed for longer intervals between oil changes. For new cars, most manufacturers recommend changing the oil every 7,500 miles. Some vehicles can go as many as 10,000 or 15,000 miles between oil changes by using synthetic oil.
If you lease a car, you might be required to service your car at regular intervals. Check the terms of your lease for maintenance requirements.
In addition to regular maintenance, perform more thorough service checks on your vehicle at milestones, such as at 15,000, 30,000, 45,000, and 60,000 miles. Check your vehicle's owner's manual, or talk to your dealer about recommended maintenance appointments.
What do extended warranties cover?
Your dealer may try to sell you an extended warranty when you buy your car, whether it's new or used. The average cost of an extended warranty is $1,200, according to Consumer Reports. They range from 1 to 10 years and come in a variety of forms, including bumper-to-bumper and powertrain warranties.
While an extended warranty can save you hundreds or thousands of dollars if something breaks, wears out, or is damaged, 55% of U.S. consumers who purchased extended warranties didn't use them during the lifetime of the policy, according to Consumer Reports. Read the terms carefully to understand what's covered before you decide to purchase one.
How much should you budget for car maintenance?
The average maintenance cost for a sedan is 5 cents a mile, based on driving 15,000 miles a year, according to AAA. Using this as a guide, the average cost of maintaining a vehicle is around $62 a month, although some experts recommend setting aside $100 a month for vehicle maintenance.
To help budget for car maintenance, consider transferring money automatically into a separate account for car maintenance or into a savings account. That way, when car repairs or service checks come up, money will already be set aside.
Your car is one of the most important assets you own. If you keep up with servicing it and maintaining its condition on a regular basis, it can provide you years of safe, efficient driving.
Empower yourself with financial knowledge
We're committed to helping with your financial success. Here you'll find a wide range of helpful information, interactive tools, practical strategies, and more — all designed to help you increase your financial literacy and reach your financial goals.