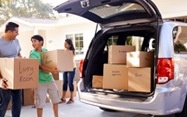 Buying a car — and financing one — is a significant decision. It's important to determine how much you'll be able to afford before you make a commitment.
These tips can help you understand how much you can afford for your monthly payment, down payment, and other costs associated with buying a car.
Calculate your monthly car payments
Before signing on the dotted line, determine your monthly payment, how it's calculated, and if it's affordable. These three steps can help:
If you know the rough price of the car (through online research, ads, shopping in dealerships, or other means), you can estimate your monthly payments.
When calculating your monthly payments, factor in your interest rate. Interest rates will vary based on whether the vehicle is new or used, your credit, and financing source.
To determine whether you can afford the estimated payment, consider including it in your monthly budget for three months, setting aside each payment amount into a savings account. This will show you how the payment will affect your budget and allow you to build additional down-payment funds.
Calculate your down payment
One of the biggest questions is, "How much should I put down on the car?" If you lease, you may not need a down payment. If you buy, it's likely you'll need a down payment; a trade-in may also help.
To determine an affordable down payment, first assess your financial situation:
Have you already started saving for a down payment?
Do you also have savings set aside for your other financial needs and goals, such as emergency savings?
While the conventional wisdom is to put down 20% on a car, a study found that the average down payment was 11.7%. Remember, the more you put down, the lower your monthly payment will be.
Determine the total cost of ownership
A few other costs factor into the total cost of ownership. The first is insurance. You'll need to purchase auto insurance whether you buy a new or used car, or lease a car. Because insurance is based on the value of the car, rates are generally lower for used cars. However, if a new car has certain safety features, those may help lower its insurance rates.
A second cost to consider is preventative car maintenance, including regular service checks, oil changes, unexpected repairs, and other upkeep.
Financing a car is a big expense. If you consider all costs, including your down payment, monthly payment, insurance, and maintenance costs, you'll be in a better position to calculate how much you can afford.
Empower yourself with financial knowledge
We're committed to helping with your financial success. Here you'll find a wide range of helpful information, interactive tools, practical strategies, and more — all designed to help you increase your financial literacy and reach your financial goals.
"How Much Should a Car Down Payment Be?" Edmunds.com, July 5, 2019.