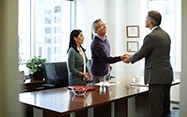 If you're in the market for a new car, dealers might present you with the choice between two very attractive offers: a rebate or a low interest rate — often as low as 0%. While both offers can save you money in the short- and long-term, it's about finding the one that's right for you.
Ask yourself these 3 questions to help you make the right choice.
1. Do I have enough money for a down payment?
Keep in mind that rebates are not really discounts; they're applied as down payments for the vehicle. Depending on the price of the car, rebates can range from hundreds to thousands of dollars.
If you don't have enough cash or a trade-in for a down payment, a rebate may help you get the car you want. If you do have enough cash for a down payment or a sufficient trade-in, you might request a check to be sent to you for the rebate.
2. Do I need to lower my monthly payments?
Do the math to determine whether 0% financing or a rebate toward your down payment could further lower your monthly payments. Factor in:
The price of the vehicle
The down payment (and rebate if applicable)
Any trade-in being applied
The loan term
The interest rate
Depending on the price of the vehicle, applying a larger down payment could reduce your monthly payment. On the other hand, 0% financing might lower your monthly payment even more.
Can I qualify for the financing offer?
While 0% financing is a great offer, not everyone can qualify. There are two main criteria for qualifying:
A good credit score and credit history
A sufficient down payment or trade-in
When purchasing a new car and deciding between a rebate or 0% financing, research other dealer incentives in your area. Sites like Edmunds.com, Cars.com, and CarsDirect.com can help. Doing your homework can help ensure you make the best possible decision.
Empower yourself with financial knowledge
We're committed to helping with your financial success. Here you'll find a wide range of helpful information, interactive tools, practical strategies, and more — all designed to help you increase your financial literacy and reach your financial goals.