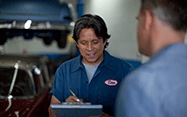 When buying a used car, put yourself in the driver's seat by having it inspected. It's the best way to know what you're getting under the hood.
Do you need a car inspection?
Depending on who is selling the car — an auto dealer or a private party — you may need to get an inspection.
If you're buying from a dealer, the car will generally be inspected already. Most dealers have certified pre-owned vehicle programs, and cars must pass rigorous inspections to be certified. The Federal Trade Commission (FTC) requires all dealers to post a buyer's guide in every car for sale, and it must state whether the car is being sold "as is" or comes with a warranty. If the car is being sold "as is," the FTC recommends getting an inspection.
If you're buying from a private party, you'll need to get an inspection yourself. An inspection can help ensure sure the vehicle is in good condition and safe. It can uncover any major problems. An inspection can also reveal structural damage and whether the car has been in previous accidents.
Who can conduct the car inspection?
Find a reliable source to conduct the car inspection. If you already work with a mechanic you trust, that's a good place to start. Otherwise, here are some sources:
Car inspection companies (search online or read local reviews)
Mobile car inspection services
Automobile repair shops
How much does a car inspection cost, and what does it cover?
The average cost of an inspection is about $100, according to the FTC. Inspections typically cover:
Exterior
Engine
Brakes
Tires
Radiator
Belts
Hoses
Fluids
What should you do with the car inspection report?
If the inspection turns up major problems, you might reconsider the purchase or ask the seller to fix the problems. If the problems are minor, you may be able to negotiate a lower price.
Before you buy a used car
Getting an inspection before you buy a used car can give you confidence about your purchase and alert you to any potential problems.
Empower yourself with financial knowledge
We're committed to helping with your financial success. Here you'll find a wide range of helpful information, interactive tools, practical strategies, and more — all designed to help you increase your financial literacy and reach your financial goals.