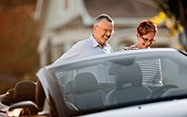 It's time to buy a car, should you choose a new or used vehicle? While that new-car smell is nice, there are advantages to buying a used car, too.
Benefits of buying a used car
Even a car that's just 1 or 2 years old can save you money while also providing many of the same benefits as a brand-new car. New cars start to lose value as soon as you drive them off the lot. According to CARFAX, cars lose an average 10% of their value the first time they are driven by a new owner, and an average 10% of their value in the first year.
Alternately, a dealer might agree to sell you a demonstration vehicle – one that's been used for test drives – often at a lower price than the sticker price or what you may be able to negotiate for a brand-new car. Some dealers will sell vehicles at a discount with as few as 1,000 to 3,000 miles.
Here are a few other benefits to buying used:
Many car dealers have certified pre-owned programs in which used vehicles must pass rigorous inspections in order to be certified.
Insurance rates may be lower for a used car.
You may be able to upgrade to a more premium model if you buy a used car.
Benefits of buying a new car
One of the top benefits of buying a new car is its condition. There's no need to hire a mechanic to inspect the car, as you may need to do if you're buying a used car from a private party. You also don't have to worry about previous wear and tear, accidents, or damage.
New cars come with a variety of warranties, from bumper-to-bumper warranties (some lasting up to 5 years) to powertrain warranties (some lasting up to 10 years). In addition, you can buy extended warranties from the dealer.
Here are a few other benefits to buying a new car:
You can customize a new car with the features you want, including exterior color, interior color and materials (such as leather or cloth), power seats, and satellite radio.
New cars may have the latest technologies and safety features, such as dual-stage smart airbags and blind-spot detection systems.
Resources to help you choose between a new or used car
When you're ready to shop for a car, you can research online and receive price quotes from sites such as Edmunds.com. Price-quoting services can eliminate the tough negotiating up front, if you're certain of the car you want. Other helpful review sites include Car and Driver, Auto Week and ConsumerReports.org.
Empower yourself with financial knowledge
We're committed to your financial success. Here you'll find a wide range of helpful information, interactive tools, practical strategies, and more — all designed to help you increase your financial literacy and reach your financial goals.
"Car Depreciation: How Much Value Will a New Car Lose?" CARFAX Automotive News and Advice, Feb. 5, 2019.