Originally published in Wells Fargo Stories, July 25, 2018.
When 18-year-old Robert Romero goes shopping online for the latest sneakers, wireless speakers, streaming games, or other potential purchases, he keeps a tight rein on his money. He relies on his mobile banking app to make sure he has enough in his account to pay for anything he wants to buy. "He's definitely a saver," said his father, Lester Romero, a banker with Wells Fargo in Las Vegas. "He's great with money, tucks it away, knows what he has, and knows what he wants. He probably has more money in his savings account now than I do." 
Romero knows his son's fiscal discipline will be put to the test this fall, when the recent high school graduate begins his first year of college. They've already talked about the new demands college will make on the family finances, he said. "I told him, 'You know you're going to have to have some skin in this game,'" Romero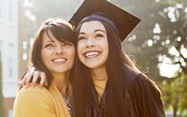 said. "I think he understands." Millions of similar talks are happening across the U.S. these days as parents and their college-age children prepare for campus life to begin — many of them for the first time. Parents always hope their students will stick to what they've been taught about managing their money. That can be tough, however, for a young person newly experiencing being away from home amid the swirl of academic pressures.  
Still, in this era of digital banking, many resources are available to help tech-savvy students succeed financially despite their often stressful college life. For the generation accustomed to doing everything on their smartphone, using a mobile banking app comes as second nature, said Katherine McGee, head of the digital team for Wells Fargo Virtual Channels.
"As a parent of two teenagers with college on the horizon, I know the importance of putting in time and effort to raise financially savvy kids," she said. "I've found the best approach to financial education is to make it engaging and interactive, using their preferred platform — the cell phone. From in-app mobile banking features to online budgeting tools, there are more options than ever to engage teens and help them become comfortable managing money, ultimately putting them on a path to financial independence." 
From the start, it is important for families to make their college-aged children aware of the costs of college and involve them in some significant way in managing those costs, said John Rasmussen, head of Wells Fargo Personal Lending Group, which includes college finance. 
"Paying for an education is one of the largest financial events for students and families," he said. "As parents we are obligated to help our children understand the importance of money management because the college years will test that financial knowledge. Families should stay connected and be engaged with the planning and investment required to earn a college degree."
Here are six tips for parents to help college students establish good money management habits, according to Wells Fargo Virtual Channels.
Set a realistic budget.
Whether your college student plans to have a part-time job, is tapping into financial aid, or will get parental support during their college years, a budget will help them decide in advance how their money should be spent – and help discourage negative financial behaviors.
Commit to a monthly savings goal.
You know the old adage "pay yourself first"? It's a habit that's never too early to start. Setting a monthly savings goal during the college years – when student income varies and tuition costs loom overhead – is a crucial best practice.
Monitor spending.
You may think you know where your money goes each month, but the truth is, many people grossly underestimate their spending, and busy students aren't immune from that. It's important for teens to get in the habit of monitoring their bank accounts and credit cards for fraud, available balances, and spending.
Get financially engaged.
Encourage students to keep their finances in shape by tapping into the mobile and online interactive tools and resources available to them. (Wells Fargo customers, for example, can access predictive banking, an artificial-intelligence feature that provides insights into spending patterns and delivers prompts to save.)
Know your credit score.
Your credit score plays a critical role in your ability to get a loan or credit card, and yet only 45% of college students, know their score, according to Equifax. Wells Fargo offers eligible customers a review of their FICO® Credit Score, accessible via Wells Fargo Online® or Wells Fargo Mobile®.
Commit to regular financial check-ins.
Once your college student has their budget savings goals, and general financial plan in order, encourage them to set aside time for regular financial check-ins with their parents. Getting in the habit of doing this early and often will help promote responsible spending and saving practices, and lay the groundwork for future financial success.
This article first appeared in Wells Fargo Stories.
Empower yourself with financial knowledge
Wells Fargo Stories features news, human interest, and perspective pieces that bring to life who we are and what we stand for – our people, priorities, and culture. You'll find real stories about how we're helping customers and investing in our communities.

Products to consider:
Availability may be affected by your mobile carrier's coverage area. Your mobile carrier's message and data rates may apply.
Wells Fargo Bank, N.A. Member FDIC.