Wire transfers are a fast, easy way to transmit money among individuals and businesses. However, because of their speed and permanence, they are also frequent targets for fraud. According to the Federal Trade Commission, roughly $423 million was lost to wire transfer fraud in 2018.
To help protect yourself from wire transfer fraud, be aware of these three common scam types.
Scam #1: Phishing scams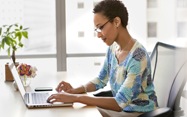 Phishing is the fraudulent attempt to obtain sensitive information, such as usernames, passwords, and account details, typically through an email or text message. These messages may impersonate a reputable company and include an urgent request to convince you to sign on to a spoof site, open an attachment containing malware, or respond with personal or account information. Once obtained, this information can be used to access your account and steal money. Scammers may hope to convince you to reveal personal information by using compelling language, such as a need to communicate with you for your own safety or account security.
To help avoid this scam:
Don't respond to messages from a sender you don't recognize. Five-digit short codes are commonly used by companies, like Wells Fargo, to send text messages. Add trusted short codes and phone numbers to your contact list so you recognize them when you receive a text. Keep security patches and anti-virus programs up to date on your computer and mobile devices.
Turn off your mobile device's setting to auto-download attachments.
Watch out for spelling or grammar mistakes in the message. Unusual text treatments, ID numbers, all caps, or punctuation like exclamation points may be signs of a scam.
If you receive an unexpected request to unblock your account, update your information, or verify your identity, don't click on any links or respond. Wells Fargo may send an identity verification request when prompted by an action you have taken, such as signing on to your account or sending money.
Scam #2: Family emergency scams
In this scam, you will receive a telephone call or email from a scammer claiming to be a friend or family member in need of money for an emergency. The person may seem legitimate because they have specific personal information, such as details about friends and family. This scam preys on people's emotions to convince you to immediately initiate a wire transfer.
To help avoid this scam:
Be cautious about sending money to friends and family until you have verified their identity and confirmed that the request is legitimate.
Hang up if you feel uncomfortable, particularly about a call you didn't initiate.
Contact your friend or family member directly to confirm the caller's story.
Scam #3: IRS fraud scams
Imposter scams that may lead to tax fraud and identity theft increase during tax season. These scams can take many forms, such as fake IRS tax notices and fraudulent phone calls. In one scenario, scammers impersonating IRS agents call to claim you owe taxes or are due a refund.
To help avoid this scam, familiarize yourself with IRS standards of tax collection:
The IRS initiates communication via mail, not email, text messages, or social media channels.
The IRS does not demand that you pay taxes without letting you appeal the amount in question.
The IRS does not require you to pay via wire transfer or any specific payment method.
The IRS does not threaten to bring in local police or other law-enforcement groups to have you arrested for not paying.
The IRS uses a standard set of account instructions for wire transfers, using the routing number #091036164 with the name "US TREAS SINGLE TX." If you see a different account information, contact the IRS for more information and verification.
To review your tax standing, visit the IRS website.
General tips for wire transfer safety
A wire transfer is an immediate form of payment. Once a scammer has obtained the funds you wired in exchange for a check, the wire transfer cannot be reversed, even if the check is fraudulent.
For that reason, it's essential to take steps to reduce your risk of fraud by knowing best practices for wire transfers:
Do not send funds to an individual or business you don't know personally.
Be wary of schemes claiming your payment will allegedly cover a loved one's expenses, lottery winning fees, and other scenarios.
Situations where you're requested to deposit a check and send a portion back under the pretense that the extra money is commission or overpayment are often fraudulent. If the check bounces, you may be responsible for the amount.
Check the information you include on a wire transfer. One typo could send the money to the wrong person or business.
Take steps to help protect yourself and your funds when conducting wire transfers. If you suspect fraudulent activity, report it to the Federal Trade Commission at ftc.gov/complaint or 1-877-FTC-HELP.
Learn more about fraud prevention at the Security Center.
Tip

Keep security patches and anti-virus programs up to date on your computer and mobile devices.
Empower yourself with financial knowledge
We're committed to helping with your financial success. Here you'll find a wide range of helpful information, interactive tools, practical strategies, and more — all designed to help you increase your financial literacy and reach your financial goals.
Products to consider: