When making plans for a trip overseas, travelers usually focus on the most obvious budget considerations, such as airfare, accommodations, and meals. However, there are other aspects of money management that come into play when traveling abroad, both in terms of additional expenses and cultural differences.
Here are a few financial considerations to keep top of mind when traveling abroad.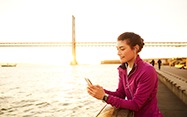 1. Consider how to access foreign currency
Before you depart, consider when it makes the most sense for you to acquire foreign currency.
If you want the peace of mind of having some money in-hand when you arrive, here's what you can do in advance:
You can acquire foreign currency through your financial institution, including Wells Fargo, and other providers, such as currency exchanges.
Shop around for the best rates and convenience, as foreign transaction fees vary from provider to provider.
Once at your destination, consider using local ATMs or banks to access foreign currency, which may offer better exchange rates and lower fees. If you plan to use an ATM abroad, check the reverse side of your debit card to see what ATM networks are compatible with your bank's cards.
2. Weigh pros and cons of making international purchases in U.S. currency
When spending money overseas, be conscious of the current exchange rates to help manage within your vacation budget.
At shops, you may come across signs with advertisements akin to, "We accept U.S. dollars." Though this may seem convenient, be sure to check the prices in both local currency and U.S. dollars. This can help you evaluate if the prices correspond with typical exchange rates and ensure you're not paying more than you would in local currency.
3. Use local currency consciously
When you're working with cash, keep these best practices in mind:
Checking your change is a good practice anywhere, but especially when traveling. Familiarize yourself with the look of local currency, to help avoid being shortchanged.
Plan on spending any coins before heading home. You can convert bills back to dollars at U.S. currency exchanges, but you may not be able to exchange coins.
Tip

When spending money overseas, be conscious of the current exchange rates to help manage within your vacation budget.
4. Be aware of foreign transaction fees
Using your card can often be more convenient than carrying physical currency throughout a trip. However, before you travel, check your card's foreign transaction fees, as these fees can add up over the course of your trip. For instance, if you made a $500 purchase on a card with a 3 percent foreign transaction fee, the fee would be $15.
5. Know local customs on tipping
While it's typical in the U.S. to tip servers between 15 and 20 percent, other regions have their own practices. In Europe, for instance, it's common to tip between 5 and 10 percent. On the other hand, in Latin America, a 10 percent service or gratuity fee is often automatically included in the bill, and an additional tip is not expected. Certain countries may not have a culture of tipping at all. 
Understanding these aspects of money management can help you save money and streamline your expenses on your next overseas trip. For more helpful travel tips, visit Wells Fargo Travel Tips and Tools.
Empower yourself with financial knowledge
We're committed to helping with your financial success. Here you'll find a wide range of helpful information, interactive tools, practical strategies, and more — all designed to help you increase your financial literacy and reach your financial goals.
Products to consider: