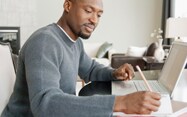 It is always important for you to know your available balance before you make a payment or purchase. When you look at your account information online, you will see your account's current available balance. This is the bank's most current record of the money that is available for you to use or withdraw from your account. However, the bank's available balance doesn't include transactions that you have made that are not yet known to us, for example checks you have just written or the car payment you just authorized.
That is why the best tool to help you avoid overspending is your own personal transaction register. Use your transaction register to record every deposit and withdrawal you make whether it is by check, ATM, debit card, or automatic payment (e.g., your car payment or gym membership). Only you know all the transactions that will affect the balance you have available for making that next payment.
What happens when you spend more than you have in your checking account?  There are several possibilities.
Your next ATM or debit card transaction may be declined when you are attempting to withdraw money or make a purchase. There is no fee associated with a declined ATM or debit card transaction.
If you have Overdraft Protection, funds will be automatically transferred from a savings or credit account that is linked to your checking account. 

Your transaction may be paid into overdraft. If so, you will need to repay the overdraft and an overdraft fee will likely be charged.
Your transaction may be returned unpaid due to insufficient funds. Keep in mind that if this returned transaction is for payment of a bill (e.g., credit card, car payment or insurance premium) the party you're paying may charge a returned payment or late payment fee.
Tip

Keeping an accurate record of your transactions is one of the best ways to avoid spending more money than you have in your account.
Wells Fargo offers services, such as online and mobile banking and text alerts that help you monitor account activity and the current available balance. But remember – you will be in the best position to know exactly how much money you have to spend when you keep an accurate and current record of every transaction you have made or that may be automatically paid from your account on a future date.
Empower yourself with financial knowledge
We're committed to helping with your financial success. Here you'll find a wide range of helpful information, interactive tools, practical strategies, and more — all designed to help you increase your financial literacy and reach your financial goals.
Products to Consider
Subject to account eligibility requirements.
Our overdraft fee for Business and Consumer checking accounts is $35 per item (whether the overdraft is by check, ATM withdrawal, debit card transaction, or other electronic means). We charge no more than three overdraft fees per business day for Consumer accounts and four overdraft fees per business day for Business accounts. Overdraft fees are not applicable to Clear Access BankingSM accounts. The overdraft fee for Wells Fargo Teen CheckingSM accounts is $15 per item and we will charge no more than two fees per business day.
The payment of transactions into overdraft is discretionary and we reserve the right not to pay. For example, we typically do not pay overdrafts if your account is overdrawn or you have had excessive overdrafts. You must promptly bring your account to a positive balance.
Sign-up may be required. Availability may be affected by your mobile carrier's coverage area. Your mobile carrier's message and data rates may apply.
Available balance is the most current record we have about the funds that are available for your use or withdrawal. It includes all deposits and withdrawals that have been posted to your account, then adjusts for any holds on recent deposits and any pending transactions that are known to the Bank. This balance may not reflect all of your transactions, such as checks you have written or debit card transactions that have been approved but not yet submitted for payment by the merchant.
Requires a Wells Fargo savings account.
Terms and conditions apply. Mobile carrier's message and data rates may apply. See Wells Fargo's Online Access Agreement for more information.
Wells Fargo Bank, N.A. Member FDIC.