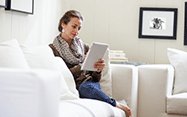 If you are struggling with debt, credit counseling may be an option to consider. Before engaging with a credit counselor, there are important differences between non-profit credit counseling programs and for-profit debt relief (or settlement) companies to be aware of.
What is credit counseling?
According to the Consumer Financial Protection Bureau (CFPB), credit-counseling organizations are usually non-profit organizations whose counselors are certified and trained in the areas of consumer credit, money and debt management, and budgeting. Counselors discuss your financial situation with you and help you develop a personalized plan to solve your money problems. 
What is the difference between a non-profit certified credit counselor and a debt relief company?
| Certified Credit Counseling | For-Profit Debt Relief (Settlement) Companies |
| --- | --- |
| Usually performs an in-depth analysis of your financial situation and makes recommendations to help you resolve your debt and finances. | Usually attempts to enroll you into a pre-defined debt settlement plan, refers you elsewhere, or declines your enrollment into its program with little analysis of your individual circumstances. |
| Usually works with your creditor(s) to create a repayment plan that avoids or minimizes adverse consequences. the credit counselor may be able to negotiate concessions such as waived fees, reduced interest and stopped collection activity. | Often directs you to stop paying creditors in order to accumulate funds for debt settlement faster. Debt relief companies usually negotiate a debt settlement for less than what you owe a creditor. Debt relief companies may direct you to send a cease and desist notice to stop collection activity. |
| Credit counselors can explain the impacts of its recommendation on your credit report and any associated tax implications. Payment plans do not usually have tax implications. | Debt relief companies may not disclose or may minimize the impact of their plan upon your credit report and tax situation. Debt settlement may involve debt forgiveness, which may have tax implications. |
| Credit counseling services, action plans, educational materials and workshops are usually free to all customers. Credit counselors may charge a fee for their service or may receive a fee from the creditor if the customer is enrolled and accepted into a bank approved long term payment plan. | Debt relief companies charge fees often based upon percentage of savings. Some debt relief companies require payment of its fees prior to distribution of funds to creditors. There are some eligibility requirements so some customers may not receive assistance if they do not qualify. |
How do I locate a non-profit credit counselor?
You can start by researching credit counselors through one of these nationwide organizations:
National Foundation for Credit Counseling
800-388-2227
Nfcc.org
Financial Counseling Association of America
800-450-1794
FCAA.org
Tip

Beware of debt relief companies that try to collect upfront fees in return for guarantees that they will settle your debts. Keep in mind that neither credit counselors nor debt relief companies can erase all of your debts.
Help for Wells Fargo customers
For Wells Fargo customers, visit Wells Fargo Assist to get help for payment challenges.
Empower yourself with financial knowledge
We're committed to helping with your financial success. Here you'll find a wide range of helpful information, interactive tools, practical strategies, and more — all designed to help you increase your financial literacy and reach your financial goals.
The content on this page provides general consumer information. It is not legal advice or regulatory guidance. Refer to this link for further information as reported by the CFPB.