If your bills are beginning to stack up, you might benefit from someone who can help you navigate the situation. Talking to a credit counselor is one option that can help.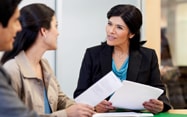 Credit counselors can help you analyze your finances and help find ways to improve your situation. Credit counseling organizations, such as members of the National Foundation for Credit Counseling, offer free or low-cost services for people who are struggling financially.
A credit counselor can take a look at your income and spending, and help you determine where your money is spent each month. By taking a closer look at your finances they can identify opportunities to cut costs and save more of what you earn. To help you create a monthly budget, they can work with you to categorize and set limits for all of your expenses. Then, most importantly, they can help you to create an action plan to help you stick to the budget you've built together.
If you're struggling with debt, a credit counselor can help you calculate how much you owe, determine how much you're paying in interest, and find out where you stand with your creditors. If it seems like your monthly payments are getting too high, they may be able to enroll you in a debt management plan or recommend a debt consolidation service. Both of these options may allow you to combine your debt into one lower monthly payment. In addition, they can provide tips about how to manage your credit in the future.
Tip

A credit counselor can help you determine where you stand with your creditors.
Managing your finances and dealing with debt can be difficult, but you don't have to go it alone. Credit counselors can help you navigate the process – and come out stronger on the other side.
Empower yourself with financial knowledge
We're committed to helping with your financial success. Here you'll find a wide range of helpful information, interactive tools, practical strategies, and more — all designed to help you increase your financial literacy and reach your financial goals.
Products to Consider
Before you apply, we encourage you to carefully consider whether consolidating your existing debt is the right choice for you. Consolidating multiple debts means you will have a single payment monthly, but it may not reduce or pay your debt off sooner. The payment reduction may come from a lower interest rate, a longer loan term, or a combination of both. By extending the loan term, you may pay more in interest over the life of the loan. By understanding how consolidating your debt benefits you, you will be in a better position to decide if it is the right option for you.