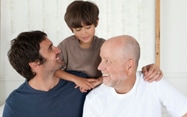 Identifying your financial goals helps you determine where you want to go – and how you are going to get there. By establishing your short-term, mid-term, and long-term goals, you can determine how to organize your savings. This worksheet can help you further define those goals, and how much you need to save.
Once you figure out what you'll need to save, it's time to think through how you're going to save. Consider the following planning strategies:
Short-term strategies: Funds for short-term goals within the next year should be easily accessible. Consider keeping money in a savings or money market account. Your money will grow and you can access these funds when needed.
Mid-term strategies: To stay focused and motivated on your goals over the next two to five years, try using budgeting tools to help you track how close you are to reaching your goal. To grow your savings, consider a certificate of deposit (CD), where you deposit the funds for a specified period of time. A CD has a higher rate of return than a savings account, but you may be charged penalties if you withdraw the funds earlier than the CD's term. When saving for a specific event, such as child's college education, consider contributing to a specialized account, such as a 529 savings plan.
Long-term strategies: When saving for more than 5 years, you might consider other deposit or investment options to meet your goals. For investments that might have a higher return, there might also be a higher risk. You should consider the balance of risk and return when making any investment decision.
Whatever investment or savings strategy you choose, be sure to review your progress on a regular basis – monthly for short-term objectives, and quarterly or annually for mid- and long-term goals – to make sure you're on track. Sticking to a savings plan is a smart strategy for reaching important  financial milestones.
Tip

Whatever investment or savings strategy you choose, be sure to review your progress on a regular basis to make sure you're on track.
Empower yourself with financial knowledge
We're committed to your financial success. Here you'll find a wide range of helpful information, interactive tools, practical strategies, and more — all designed to help you increase your financial literacy and reach your financial goals.
Products to consider
Wells Fargo Bank, N.A. Member FDIC.