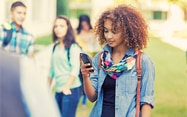 For many teens and 20-somethings, the beginning of college or a new job signals a fresh start. Unfortunately, when young adults move on to this next chapter, they are often prime targets for scams. Whether you are looking for a job, renting an apartment, or applying for a scholarship, follow these tips to sharpen your street smarts to help you stay financially safe by educating yourself on these common scams.
Scam #1: Employment scams
According to the Better Business Bureau, employment scams were one of the top scams reported by 18- to 24-year olds in 2020. Scammers commonly target students through texts, emails, or online ads and may impersonate well-known companies or even a professor from their school. After you are "hired," the employer may charge you for training and ask you to provide your personal and financial information, leaving your identity and your bank account vulnerable. Other methods may include asking you to purchase expensive equipment to work from home or "accidentally" overpaying you with a fraudulent check and requiring you to send the difference back to them through an immediate form of payment. Know that when sending money using mobile payment apps, gift cards, or wire transfers, the payment is usually not returnable and you would be held responsible for any money sent — meaning you will likely lose that money.
To help avoid employment scams:
Don't respond to a posting that guarantees you a job for a fee. 
Thoroughly research secret shopper or work-from-home postings. Scammers often advertise jobs that don't require special training to attract a wide range of applicants.
Be wary of common red flags, such as offering you employment without an interview, overpaying you and asking you to send back the difference, or promising lucrative opportunities as long as you pay for training, coaching, or other products.
Watch out for any request from an employer to send them or someone else money or gift cards.
Scam #2: Rental scams
As a young adult, you may tend to move frequently, whether to a college dorm or an apartment. Moving a lot can make you more likely to encounter a rental scam.
In one common scenario, scammers post fake rental properties on free sites, often at a rate below market value. They may look like other rental posts complete with real photos and descriptions. Once you express interest, you are typically pressured to make a deposit immediately, often by wire transfer. Once the money is sent, the scammer and your deposit disappear.
To help avoid rental scams:
Avoid any listing that requires you to act immediately. If you cannot meet in person, see the apartment, and sign a lease before you pay, keep looking elsewhere.
Do not send a deposit by wire transfer, as a wire transfer is an immediate form of payment and usually cannot be returned to your account, even if a scam is involved.
Be wary of poorly written correspondence or ads with vague descriptions, misspellings, grammar mistakes, or unusual formatting.
Research the landlord online to confirm whether they have been named in scams in the past.
Use the Better Business Bureau to research reputable property management companies.
Scam #3: Scholarship and financial aid scams
Scammers target college students by claiming to offer scholarships, grants, and other financial aid packages for a fee. They may also conduct seminars and then request immediate payment in order to receive the supposed financial aid.
A scam may include a "money-back guarantee," but the terms and conditions of the package make it almost impossible to receive a refund. Others provide nothing for your payment. Scammers may ask for checking account information, claiming it will confirm your eligibility, and then secretly debit the account. Some also ask your permission to charge a recurring fee, but even if you cancel the service, these charges continue.
To help avoid scholarship and financial aid scams:
Use the Free Application for Federal Student Aid (FAFSA), the largest provider of student financial aid in the nation, if you are filing for financial aid.
Visit the U.S. Department of Education for information on how to find legitimate scholarships.
Do not accept offers for "guaranteed" scholarships you did not apply for.
Avoid services that claim you will be eligible only if you provide an upfront payment.
Investigate the individual or organization you are considering paying for help. Talk to a school counselor or financial aid advisor before spending your money because you may be able to receive the same services for free.
Learn more about common scams and how to avoid them on the Security Center.
Tip

Shred unwanted credit card offers and other sensitive paper documents before discarding.
Empower yourself with financial knowledge
We're committed to helping with your financial success. Here you'll find a wide range of helpful information, interactive tools, practical strategies, and more — all designed to help you increase your financial literacy and reach your financial goals.
My Financial Guide