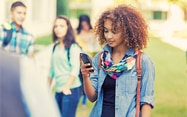 For many teens and 20-somethings, the beginning of college or a new job signals a fresh start. Unfortunately, while young adults move on to this next chapter, they are often prime targets for scams. Whether you are renting an apartment, applying for a scholarship, or taking a social media quiz, follow these tips to sharpen your street smarts and stay safe by educating yourself on these common scams.
Scam #1: Rental scams
As a young adult, you tend to move frequently, whether to a college dorm or your first apartment. However, these moves may be accompanied by the possibility of a rental scam.
In one common scenario, scammers post fake rental properties on free sites. They may look like other rental posts, complete with real photos and descriptions. Once you express interest, you are pressured to make a deposit immediately, often via wire transfer. Once the money is sent, the scammer and your deposit disappear.
To avoid rental scams:
Avoid any listing that requires you to act immediately. If you cannot meet in person, see the apartment, or sign a lease before you pay, keep looking.
Do not send a deposit via wire transfer, as wire transfer is an immediate form of payment. Once the scammer has obtained the funds, the wire transfer cannot be reversed.
Be wary of poorly written correspondence or ads with misspellings, oddly written language, or unusual formatting.
Use the Better Business Bureau to research reputable property management companies.
Scam #2: Scholarship scams
Scammers target college students by claiming to offer scholarships, grants, and other financial aid packages. They may also conduct seminars and then request immediate payment in order to receive the supposed financial aid.
A scam may include a "money-back guarantee," but the terms and conditions of the package make it almost impossible to receive a refund. Others provide nothing for your payment. Scammers may ask for checking account information, claiming it will confirm your eligibility, and then secretly debit the account. Some also ask your permission to charge a recurring fee, but even if you cancel the service, these charges continue.
To avoid scholarship scams:
If you are filing for financial aid, use the Free Application for Federal Student Aid (FAFSA), the largest provider of student financial aid in the nation.
Visit the U.S. Department of Education for information on how to find legitimate scholarships.
Do not accept offers for "guaranteed" scholarships you did not apply for.
Avoid services that claim you will be eligible only if you provide an upfront payment.
Scam #3: Identity theft scams
According to the Federal Trade Commission, 19% of teens and 20-somethings filed identity theft complaints in 2015. Young adults are also active on social media and tend to share personal information, often on third-party websites or through quizzes that may capture and use this information to steal your identity. In addition, college students' Social Security numbers and other identifiable information may be viewable on university transcripts, registration forms, or student ID cards, which could end up in the wrong hands.
To avoid identity theft scams:
Remember school mailboxes are not always secure, so have sensitive mail sent to a permanent address, such as a parent's home or a post office box.
Do not loan your credit or debit card to anyone, even a roommate or close friend.
Store Social Security cards, financial documents, and unused credit cards in a secure location.
Shred unwanted credit card offers and other sensitive paper documents before discarding.
Switch to paperless options for financial statements.
Review your credit report at least once a year to look for unauthorized accounts that are opened in your name. Receive a free credit report once a year from each of the three major credit bureaus at www.annualcreditreport.com.
If you believe your Wells Fargo account has been compromised, contact Wells Fargo immediately.
Learn more about common scams and steps you can take to avoid them at our Security Center.
Tip

Shred unwanted credit card offers and other sensitive paper documents before discarding.
Empower yourself with financial knowledge
We're committed to your financial success. Here you'll find a wide range of helpful information, interactive tools, practical strategies, and more — all designed to help you increase your financial literacy and reach your financial goals.
My Financial Guide