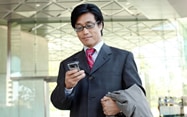 For more than 160 years, account security has been a top priority for Wells Fargo. While we have security measures in place to address evolving online threats, safeguarding your accounts also requires a partnership.
What steps can you take to improve your account security? From password selection to social media safety, follow these 10 tips to help stop scammers in their tracks.
1. Secure your sign on. 
Use a unique username and password for your Wells Fargo accounts, update them regularly, and do not use any part of your email address as your username or password.
2. Protect your PIN.
Cover the keypad when entering your PIN at an ATM, grocery store, or other location.
3. Be wise about Wi-Fi.
Do not access your financial accounts through public Wi-Fi networks, such as those in a coffee shop or airports.
4. Stay current.
Keep the operating system, anti-virus software, and security patches up-to-date on all your devices.
5. Avoid phishing emails.
Do not click on links, open attachments, or provide sensitive information through a suspicious-looking email or text message.
6. Keep it clean.
Delete text messages from financial institutions before loaning out your device. Use the device's "wipe" feature to clear out personal information when selling or discarding the device.
7. Set up alerts.
Set up account alerts so you will be notified of withdrawals and deposits to your account, as well as any suspicious card activity. Report suspicious activity as soon as it is detected.
8. Pause before you post.
Do not overshare on social media by providing information used by your bank or other companies to verify your identity. Also review the privacy settings for your social media accounts.
9. Secure your data.
If you use a cloud-based service or website to store financial documents, ensure that the site has security features such as required log-in and data encryption denoted by "https" in the address bar.
10. Stay ahead of scammers.
If you are uncomfortable with a phone call you did not initiate or if the caller requests access to your computer, hang up and contact the company using legitimate sources such as a phone number on the company's website.
If you think your account information may have been compromised or you suspect fraud, contact Wells Fargo immediately.
Empower yourself with financial knowledge
We're committed to helping with your financial success. Here you'll find a wide range of helpful information, interactive tools, practical strategies, and more — all designed to help you increase your financial literacy and reach your financial goals.
My Financial Guide