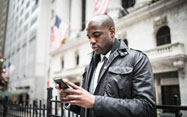 With 95 percent of American adults owning a mobile device, smartphones and other cell phones are a common target for security breaches. In fact, in 2015, 3.3 million mobile apps were classified as malware, or malicious software.
How can you steer clear of malware and other online threats? Build a security plan that includes your phone, your bank, and advanced security tools. By following these four action steps, you can reduce the risk of your sensitive information falling into the wrong hands. 
Step 1: Secure your mobile device
Use a four- to six-digit password and/or fingerprint authentication to lock your phone or tablet. Ensure the password is something only you know and that nobody else could guess. Avoid using parts of your birth year, child's name, pet's name, or anything else that someone could easily guess.
Enable the "remote wipe" feature so you can clear your device's information in case it is lost or stolen.
Delete messages and push notifications from your financial institution, especially before loaning out your device.
Do not alter or "jail break" your mobile device. This may make your device vulnerable to malicious software. 
Install an antivirus program on your device.
Step 2: Put your phone to work
Maintaining your device regularly is important, particularly keeping security patches current, which is easy to do since many devices offer automatic operating system updates. Check your settings regularly to ensure you haven't missed an update.
More tips to try:
Set up security alerts to go directly to your phone in case of any detected suspicious activity in your bank account.
Avoid downloading programs and apps from unknown sources.
Only download programs and applications from a trusted source, like your phone's app store or the manufacturer's website.
As another mobile security feature, many companies offer two-factor authentication, a method of identity verification that requires two different components, such as a password and security token or one-time code sent to your device. By combining something you have (a token or code) with something you know (a password), it becomes more difficult for online criminals to steal your credentials.
Step 3: Practice security 24/7
When you finish banking on your mobile device, always log off – do not simply close the browser or app.
Make sure your home router is secured with a strong password to help protect the devices on your network.
It's tempting to use unsecured Wi-Fi networks in coffee shops, libraries, or other locations. However, you should never use these networks to log into your financial accounts or other accounts containing your sensitive information.

Step 4: Stay secure even after you part ways
Sometimes you may have to replace your mobile device. Use your phone's settings to:
Sign out of your account and unpair from any other devices.
Restore the device to factory settings – don't just manually delete contacts, calendars, and other personal content.
Wipe your mobile device before discarding it.
If you are changing your number or other contact information, remove it from your banking profile. Make sure your banking institution has your current contact information. If you're a Wells Fargo customer, you can do this via the Security Center.
After following the tips above, enjoy greater peace of mind knowing your security plan is working to help secure your sensitive information.
Want to learn more? Read about how to recognize malware and help protect your devices now.
Tip

How can you steer clear of malware and other online threats? Build a security plan that includes your phone, your bank, and advanced security tools.
Empower yourself with financial knowledge
We're committed to your financial success. Here you'll find a wide range of helpful information, interactive tools, practical strategies, and more — all designed to help you increase your financial literacy and reach your financial goals.
Products to consider: