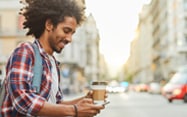 With 95 percent of American adults owning a mobile device, smartphones have become a common target for security breaches. In the first half of 2019, cyberattacks targeting smartphones and other mobile devices increased by 50% over 2018.

A safety check-up for your device and good mobile banking habits can help you steer clear of malicious software, known as "malware," and other online threats. By following the recommendations below, you can help increase the security of your personal and financial information. 
Set up your device for optimal protection
Contact your mobile carrier to set up a PIN for your account. This extra security measure makes it more difficult for others to make changes to your account or transfer your service to a different mobile number.
Ensure the automatic updates feature is enabled in your settings so that software updates will automatically download and install to help protect your phone with the latest security upgrades.
Use a passcode or biometric authentication (fingerprint or facial recognition) to unlock your phone or tablet. If you use a passcode, ensure it's something only you know and not easily obtained or guessed by others, such as your birth year or address number.
Secure your home router with a strong password to help protect devices on your network from unauthorized access.
Do not alter or "jail break" your device, as it may make it vulnerable to malware.
Practice mobile banking safety 24/7
Set up alerts to notify you of balance changes, withdrawals, and card purchases, so you can quickly detect and report suspicious activity if something doesn't look right.
Only download applications from a trusted source, like your mobile phone's app store.
Never use unsecured Wi-Fi networks in public places, such as coffee shops or airports, to sign on to financial accounts or other accounts containing your sensitive information.
Be cautious about sharing your device with others who could gain access to your accounts through the mobile app.
Always sign off once you finish banking on your mobile device – do not simply close the browser or app.
If you change your mobile number, email, or mailing address, be sure to update your profile so your bank can contact you if necessary. If you're a Wells Fargo customer, you can update your contact information in mobile banking.
Protect your data when it's time to part ways
When you're ready to change out your device:
Unpair your old phone from Bluetooth-enabled devices.
Restore the device to factory settings – don't just manually delete contacts, calendars, and other personal content.
Wipe your mobile device of your data before discarding it by following the manufacturer's instructions.

By making these habits part of your routine, you can help protect your sensitive information, even when you're on the go.
Explore more tips on how to stay safe online.
Empower yourself with financial knowledge
We're committed to helping with your financial success. Here you'll find a wide range of helpful information, interactive tools, practical strategies, and more — all designed to help you increase your financial literacy and reach your financial goals.
Products to consider: