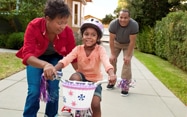 Insurance is one of the few things you buy with the hope that you'll never need to use it. If an emergency or accident occurs, however, insurance can help offset the costs associated with recovery. By understanding the basic types of insurance, you can better protect your home, your assets, and your family.
Tip

Depending on where you live, you may also have to purchase protection against flooding.
Property and casualty insurance
Auto, homeowners, and renters insurance are three main types of property and casualty insurance:
Auto insurance provides financial reimbursement for injuries and property damage if an accident happens. Auto insurance often includes a variety of deductible options, liability limits, and additional coverage choices.
Homeowners insurance usually includes protection for a broad range of potential catastrophes, including fires, tornadoes, burglaries and legal liability. Mortgage lenders require customers to have proof of homeowners insurance on properties with an outstanding loan. A variety of coverage options and deductibles, liability limits and additions are available. Homeowners insurance protects not only the dwelling, but also personal property, subject to policy exclusions. Extra protection may be needed for flooding or earthquake damage.
Renters insurance covers the cost to replace or repair personal property (such as household goods, furniture, clothing and electronics) if it is damaged or destroyed in a catastrophe like a fire or burglary.
With these types of insurance, it's important to determine whether you want to insure the "replacement cost" or "actual cash value" of your possessions. Actual cash value is the estimated value after depreciation. The premium on replacement cost insurance will be higher than the actual cash value option.
Life insurance
Life insurance can help to replace lost income in the event of a death and can be important if you're responsible for the financial well being of a child, spouse, or other loved ones. While there are several options, two common life insurance products are:
Term life insurance provides the largest amount of coverage for the lowest cost. Policies typically have terms between 1 to 30 years. If the policy holder dies during the term of the policy, the value of the policy goes to the beneficiaries.
Whole life insurance coverage builds cash value within the policy that can be accessed at a later date, and while premiums are generally higher they do not increase as you get older.
If you have additional questions, consider speaking with an insurance agent to find specific policies that fit your needs.
Empower yourself with financial knowledge
We're committed to helping with your financial success. Here you'll find a wide range of helpful information, interactive tools, practical strategies, and more — all designed to help you increase your financial literacy and reach your financial goals.