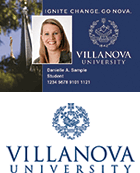 Connect your Villanova University Wildcard to a Wells Fargo Everyday Checking account
Villanova University and Wells Fargo are pleased to offer you an optional banking convenience when you connect your Villanova Wildcard to a Wells Fargo Everyday Checking account. Your Wildcard is your official University ID card that you will be using for campus privileges and for your day-to-day financial needs on and off campus. When connected, you will enjoy free access to cash at Wells Fargo ATMs nationwide and making purchases using your Personal Identification Number (PIN) with your connected Villanova Wildcard.
A Wells Fargo Everyday Checking account offers you:
Monthly service fee waived when connected to your Villanova Wildcard 
Sending money to virtually anyone from your smartphone with Wells Fargo Surepay℠ service
Quick and secure check deposits with our mobile apps
Simple, secure access to your account with Wells Fargo Online® Banking
Direct deposit of your financial aid disbursements and/or paychecks
Connecting your Villanova Wildcard
Getting Your Card: If you are a residential student, you will receive your Wildcard when you check into your residential hall. If you are a non-residential student, you will get your card from the Wildcard Office. 

Once you have it, bring it to the Wells Fargo banking location on campus or any nearby Wells Fargo banking location to open a Wells Fargo Everyday Checking account:

Dougherty Hall - 800 Lancaster Avenue 

See a banker to connect your card to your new or existing Wells Fargo Everyday Checking account.
Reporting your lost or stolen connected Villanova Wildcard
Contact your school
Report your missing Wildcard online or visit the Wildcard Office in Dougherty Hall to prevent unauthorized use of your card and to obtain a replacement card. 
When the Wildcard Office is closed, you may also report the loss to Public Safety at

1-610-519-5800

 
Contact Wells Fargo
If your card is linked to a Wells Fargo account, immediately contact Wells Fargo 24/7 at 1-800-TO-WELLS (1-800-869-3557). Wells Fargo accepts Telecommunications Relay Services calls. For TTY/TTD, call 1-800-877-4833.
Connect your new card
Once you have your new card, speak to a Wells Fargo banker to have it connected to your checking account.
Be smart with your money
Find valuable tools and tips for managing your checking account and finances to help you spend and save wisely.
Keep track of your finances online
Learn financial basics with the Hands on Banking® program 
With this free, fun, educational website you'll learn the benefits of budgeting, how to manage expenses, and the importance of using credit wisely.
For English:
Handsonbanking.org
For Spanish:
Elfuturoentusmanos.org