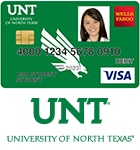 The enhanced Mean Green Card is linked to a Wells Fargo Everyday Checking account
University of North Texas and Wells Fargo have teamed up to offer you added banking convenience with your enhanced Mean Green Card . Use it for your day-to-day financial needs on and off campus when it's linked to a Wells Fargo Everyday Checking account. Enjoy free access to cash at Wells Fargo ATMs nationwide and make everyday purchases and pay bills worldwide at participating retailers and service providers with your enhanced Mean Green Card. 
With a Wells Fargo Everyday Checking account you will enjoy:
Monthly service fee waived when linked to your Mean Green Card
Sending money to just about anyone with a U.S. bank account from your smartphone using the Wells Fargo SurePaySM service
Payment convenience with Apple PayTM to make purchases using your iPhone® 6 or iPhone® 6 Plus
Checking balances, transferring funds, and more with Wells Fargo Mobile® banking
Simple, secure access to your account with Wells Fargo Online® banking
Direct Deposit of your financial aid disbursements and/or paychecks
Getting your enhanced Mean Green Card
Have your photo taken at the ID Systems Office: 

Denton Campus — Eagle Student Service Center, 1st Floor

Dallas Campus — Student Services Suite 
    For more information, call the ID Systems Office at 1-940-565-4481 or visit online.
Go to any nearby Wells Fargo banking location to open a Wells Fargo Everyday Checking account and request your new enhanced Mean Green Card including: 

Stovall Temporary Union Building - STUB


Activate your enhanced Mean Green Card when you receive it in the mail by calling the toll-free number provided.
You are protected
Your debit card comes with Zero Liability protection at no extra cost which means you are not responsible for any unauthorized transactions when promptly reported.
Get instant savings
Enjoy discounts at popular merchants when you use your Campus Debit card. Visit wellsfargo.com/discounts to learn more.
Reporting your lost or stolen enhanced  Mean Green Card 


Contact your school
Contact the UNT ID Systems Office at 1-940-565-4481
Contact Wells Fargo
Immediately contact Wells Fargo 24/7 at 1-800-TO-WELLS (1-800-869-3557) and request a replacement enhanced Mean Green Card. Wells Fargo accepts Telecommunications Relay Services calls. For TTY/TTD, call 1-800-877-4833.
Be smart with your money
Find valuable tools and tips for managing your checking account and finances to help you spend and save wisely.
Keep track of your finances online
Wells Fargo Mobile® Banking, access your account information while you're on the go
Text Banking, quickly check balances and transfer funds via text message
Free and timely account alerts about transactions sent right to your email or wireless device (your mobile carrier's message and data rates may apply)
Learn financial basics with the Hands on Banking® program
With this free, fun, educational website you'll learn the benefits of budgeting, how to manage expenses, and the importance of using credit wisely.
For English:
Handsonbanking.org
For Spanish:
Elfuturoentusmanos.org