Wells Fargo Rewards Visa® card
Earn rich rewards and enjoy flexible redemption options
Get more from a Wells Fargo Rewards Visa® card
Take advantage of our lowest introductory APR and transfer higher interest rate balances.
Enjoy $0 annual fee.
Earn 5 X rewards points for every $1 spent on gas, grocery, and drugstore net purchases for the first 6 months.
Earn 1 rewards point on every $1 spent on virtually all other net purchases- everyday.
Start earning rewards points with the
Wells Fargo Rewards Visa® card
Explore rich rewards with Visa Signature®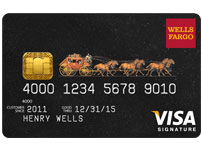 Enjoy rich rewards and exclusive privileges including luxury hotel benefits, concierge service, travel offers and more with a Wells Fargo Visa Signature® Card.
Please note that the offers displayed on this page may differ from offers you may have received from Wells Fargo. Please refer to your offer specific disclosures for more details.