Wish you could speed through the checkout line faster? A Wells Fargo Credit Card with Visa payWave is a fast, easy way to pay. Simply wave your card in front of the reader at checkout and you're done — no cash or card-swiping necessary. There's no signature required for most purchases under $25, and no need to wait for a receipt — although you can still ask for one anytime. You can also track your daily spending by viewing all transactions online with My Money Map.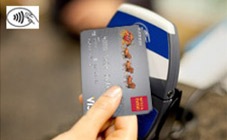 Look for the payWave symbol at convenience stores, movie theaters, quick-service restaurants, and more. You can also use this card at millions of traditional terminals that don't yet accept payWave payments.
Peace of mind
Wells Fargo employs a range of protection measures to create a multi-layered defense against fraud. Each payWave transaction goes through a special authorization process, and the Zero Liability program ensures that you won't be held responsible for unauthorized transactions when you report them promptly.
To get Visa payWave, you can choose this card option when you apply for most Wells Fargo Credit Cards.  If you already have a Wells Fargo Credit Card, call 1-800-642-4720 to request Visa payWave.