Wells Fargo Cash Back Visa® card
Earn unlimited cash rewards and enjoy low interest rates
Get more from a Wells Fargo Cash Back® Card
Take advantage of our lowest introductory APR and transfer higher interest rate balances.
Enjoy $0 annual fee.
Earn 5% cash rewards for every $1 spent on gas, grocery, and drugstore net purchases for the first 6 months.
Earn 1% cash rewards on every $1 spent on virtually all other net purchases- everyday.
Cash rewards are unlimited.
Start earning your cash rewards with a Wells Fargo Cash Back Visa® card
Please note that the offers displayed on this page may differ from offers you may have received from Wells Fargo. Please refer to your offer specific disclosures for more details.
Explore rich rewards with Visa Signature®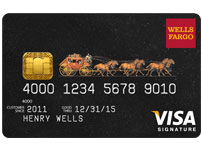 Enjoy earning  cash rewards and exclusive privileges including special access to popular events, shopping offers and more with a Wells Fargo Cash Back Visa Signature® Card