As a leading liquidity provider, we offer comprehensive FX trading in more than 100 currencies. Our customizable online trading platform delivers consistently competitive pricing across a variety of portals.
Our team of professionals is committed to:
Delivering robust electronic pricing and risk management strategies to active traders
Providing comprehensive trading services over multiple venues
Supplying deep and highly competitive liquidity 24 hours a day, six days a week via our robust low-latency network
Supporting your FX needs with team members strategically located throughout the U.S. and in key international locations
Providing an electronic competitive advantage no matter what your trading demands
Where customers find us
We make it easy to access live price quotes and execute trades through our online trading platform and various ECNs.
WATS FX Professional®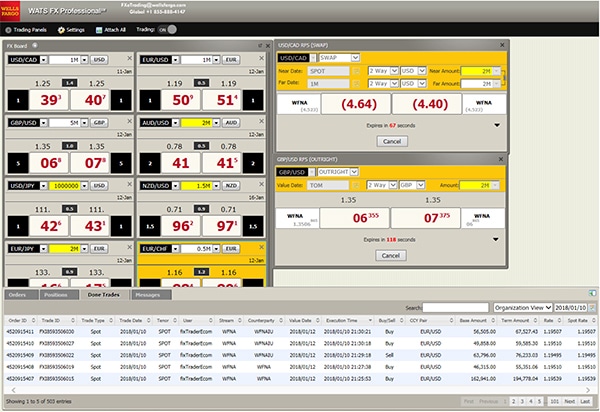 Our fully-customizable online portal for active traders offers:
Live executable streaming prices
Single-click dealing
Combined blotter with completed trades, orders, and daily positions with P&L
Modular design for a customized view
Post-trade deal history analytics
To learn more, watch these videos for an overview and a demo of WATS FX Professional®.

FX liquidity though ECNs
360T
Bloomberg
Currenex
FXall
FX Connect