In this issue:
Industry Trends
Investor Trends
Legal & Regulatory Update
Industry Trends
Separately Managed Accounts: Part II
Wendy Beer speaks with Benson Cohen, Partner, Sidley Austin LLP
Benson has experience counseling asset management clients on the myriad of regulatory structures applicable to their business, including the U.S. securities laws and the U.S. Bank Holding Company Act. Benson is well-versed in the ERISA, tax, FINRA, CFTC and NFA rules and regulations that affect institutional asset managers.
In the last edition of this quarterly report we covered institutional investors' demand for customization, liquidity, and transparency resulting in the increased use of SMAs. In this edition, we continue evaluating trends in SMAs with a particular focus on the legal and regulatory considerations.
WB: Managers often face issues with SMAs having lower fee structures and greater transparency than investors in the comingled fund. Is there a way to keep an existing investor from finding out about the manager's other SMAs?
BC: Absent a request for information, a manager certainly does not need to volunteer any information.
Our experience is that it is practically difficult to keep an inquisitive existing or prospective investor from finding out about an SMA. Existing fund investors often have a question on their ongoing due diligence checklist to confirm that the manager is not taking SMAs or is only taking SMAs at a minimum level (often stated in the manager's Form ADV). Some investors may also include notice of SMA terms as part of a "most favored nations" provision or other notice provision in the side letter. Even without prompting, emerging managers often want to let their other clients know when they have signed on an SMA because it demonstrates growth in the business. In any event, a manager should be careful to comply with confidentiality requirements to the SMA account owner (e.g., it should hide the identity of the SMA account owner and should keep the terms secret).
WB: Do managers have to charge different fees in an SMA?
BC: Not necessarily, though the need for a customized fee structure is the most common reason for doing an SMA. The most common request is a lower management fee in exchange for a higher incentive fee, or incorporation of a hurdle into the incentive fee. There is also a push for sharing of expenses. Finally, I have started to see investors proposing to treat the management fee as an advance on the incentive fee for an effective zero percent management fee.
WB: In the prior quarterly report we discussed the general shift towards use of high water marks, hurdle rates, clawbacks of performance fees, and longer lock-ups, as contributing to lower management fees. Focusing on some of the less obvious pitfalls in using different fee structures, what should managers be thinking about?
BC: There can definitely be pitfalls, both from a business and legal standpoint. From a business standpoint, managers can be pushed to agree to a hurdle that compounds over time. If a manager gets into even a small hole, this can make it virtually impossible to get out. Also, the hurdle needs to be carefully aligned with the investment objectives (e.g., a hurdle indexed to the S&P500 for a large cap equities strategy). In addition, managers should think about whether they get the benefit of outperforming a hurdle if the related index is negative. If an SMA loses 5% but the index loses 10%, does the manager earn a fee? From a legal standpoint, managers need to be cognizant of how different fee structures can affect (or be perceived by regulators or clients to affect) their investment process. While a manager may say that they will manage an SMA pari passu with their commingled fund, there are obvious differences in economic incentives if the SMA pays a higher incentive fee or has an incentive fee that is subject to a hurdle. These kinds of differences make it vital that managers establish very clear rules for how to allocate assets and time buy and sell decisions to avoid charges that they treated an SMA differently from the comingled fund (or vice versa). We have seen the biggest issues arise from trying to slice and dice assets that typically trade in large lots.
WB: What are the pros and the cons of a "Fund of One" structure?
BC: The biggest "pro" for the manager is that a properly structured "Fund of One" can allow the manager to get a profit allocation and Carried Interest treatment. If a manager gets a profit allocation from their commingled fund, they should model out the after-tax economics of getting a fee, which does not benefit from Carried Interest treatment. The "con" is that a manager would need to make a sufficient investment in the "Fund of One" to become a tax partner. Some SMA clients do not want a manager to be invested in the same vehicle or have different tax considerations, so it's important to start discussing this point at the earliest possible stage.
The other big "pro" for a manager is that a "Fund of One" that is set up by the manager (i.e., the manager or its affiliate acts as the general partner or controls the board of directors) gives the manager more control over portfolio level transparency and liquidity control. In fact, many SMA clients do not want a Fund of One or do not want the manager to set up the vehicle because they are concerned about losing transparency or other control over the account. The "con" here is that a manager needs to build in the time and expense needed to set up the vehicle and have it audited.
WB: Are there regulatory concerns for taking an SMA?
BC: Yes – let's start with startup managers. The Dodd-Frank amendments to the Advisers Act eliminated the exemption that allowed managers with fewer than 15 clients to avoid registration. The current "private fund adviser exemption" exempts U.S.-based managers from registration if the manager that has less than $150 million in assets under management in the United States and solely advises "private funds." This second element is critical for startup managers thinking about managing an SMA. If a manager has a small fund and then takes on one SMA, regardless of size, the manager will lose the ability to take advantage of the private fund adviser exemption. This can come as a surprise to many managers, who have not budgeted for the additional costs of registration early in their firm's life cycle.
Another category of manager for whom this can be tricky is a non-U.S. adviser. Certain non-U.S. advisers take advantage of the "private fund adviser" exemption because they do not have any office in the U.S. or only have a marketing office in the U.S. Those advisers are often not managing any money in the U.S., so they can have very substantial AUM without needing to register. However, if they advise one SMA with a U.S. client, they lose the exemption.
WB: What legal and regulatory issues should be considered for a registered manager contemplating an SMA?
BC: A registered U.S.-based manager needs to consider the regulatory and compliance issues around allocation of trades and expenses and other conflicts of interest that can arise. Moreover, in less liquid strategies, managers should be particularly cognizant of potential differences in valuation procedures and standards between an SMA and a manager's commingled fund or between different SMAs. SMA clients often have a standard set of valuation procedures that apply to all accounts, which can vary from the valuation procedures used by a manager for its commingled fund. At the least, these differences can create confusion, and, at most, a manager can be subject to additional SEC questions.
Also, managers should review their disclosures to make sure they have adequately disclosed how they allocate "soft dollars" between and among SMAs and funds. Sometimes managers have language in their documents stating that "soft dollars" generated by an account may only be used for the benefit of that account. That language can create huge issues if a manager has both a fund and an SMA because it's often hard to allocate the "soft dollars" in a precise manner.
WB: What specific trade allocations should a manager be thinking about with an SMA and a comingled fund?
BC: This gets complicated when you have a fund and an SMA (or multiple accounts) that have overlapping (but not identical) investment objectives and restrictions. If a trade is appropriate for the fund and the account and there is limited investment availability, the manager would be in the safest place if they allocate pro rata. However, there are many situations in which this is impracticable – e.g., the investment cannot be split. The manager can allocate in a fair and equitable manner over time, but clients (and regulators) are going to take a very close look at those nonpro rata allocations.
WB: How does a manager minimize the regulatory risk?
BC: A manager needs to have a policy that is developed in advance (and in isolation of any particular trade) for how to deal with allocations of investment opportunities. For example, if a manager cannot always allocate pro rata, the manager should consider having some sort of blind rotational process that is disclosed to fund investors and SMA clients when the relationship is established.
Managers have to apply the policy on an objective basis and review the results on a periodic basis – is it resulting in allocations that, even inadvertently, benefit the manager? It would be a red flag if an allocation policy just happens to result in all the profitable trades being over allocated to a fund or account without a performance hurdle (vs. the funds/accounts that have a performance hurdle or a loss carryforward balance).
WB: We previously discussed that clients have real-time portfolio level detail on the SMA's holdings. Is there anything a manager can do to protect themselves from a client using portfolio-level data?
BC: Managers should ask clients to agree to a "no use" provision that prohibits the client from using portfolio-level data in a manner that can hurt the manager or its other clients. For example, managers should be concerned about a client using portfolio-level data to up-size the portfolio (or particular trades) or reverse-engineer a manager's trading models. Managers need to be careful to not "give away the store" and put other investors in a worse position.
WB: How should a manager approach this discussion?
BC: Managers should discuss a "no use" provision up front to make sure the client is on board. Also, managers should determine whether a client is going to need additional reporting from the manager. Managers should understand, before signing onto an SMA, how the data is going to be used and what resources the manager will need to provide to keep the client (and their other service providers) happy.
An up-front conversation can avoid a lot of issues – both in negotiating the SMA and in the day-to-day operation of the account.
WB: How do risk aggregators play into the relationship between a manager and its clients?
BC: Even though a client has the portfolio-level data, they often do not have the resources to crunch the data and analyze it appropriately. Many clients work with risk aggregators to give them useful reporting. The manager will often be asked to give the portfolio-level data to the risk aggregator, which aggregates it along with other accounts held by the client, to provide an aggregated "risk dashboard." Managers will still want the platform provider to agree to an NDA (including a "no use" provision that restricts the platform provider from using the information for its own trading), but the platform providers are often able to give that easily because they are set up to act in this role.
WB: Can managers get SMA clients to agree to a "lock up" or other types of restrictions on liquidity?
BC: Managers generally want to have the liquidity terms match their fund terms. However, managers should recognize that the contractual terms may not be enforceable in practice. The SEC and state regulators look unkindly upon limitations on the ability of a client to fire their fiduciary. While the contract may say that a client can only withdraw or terminate on certain notice or at certain times, those provisions are not necessarily enforceable. As a practical matter, any contract enforcement suit will be time-consuming and costly and can cause tremendous reputational damage to a manager.
WB: What legal steps can a manager take to protect itself in an SMA and assure a better alignment of interests?
BC: There are some options, though they are less than ideal. In an SMA, the assets are held by a third-party custodian. If a manager is concerned that a client will pull the assets, you can propose that the custodian be required to get sign off from both the client and the manager on a withdrawal or termination. However, most custodians do not want to be in the middle of a fight so they will not be inclined to agree to this. One of the better options is to negotiate a clause in the SMA agreement that is triggered if the client withdraws or terminates rather than relying on the ability to enforce the terms of a contract. This can be thought of as a "liquidated damages" provision that sets out the amount that the client has to pay the manager if the client terminates early. Better to have a negotiated exit provision that aligns the economic incentives between the client and the manager.
WB: For less liquid strategies, are there ways to minimize the impact of a liquidation by the SMA account or create disincentives to avoid the client liquidating an SMA for ordinary poor performance?
BC: It is difficult, both as a regulatory and business matter, to limit an SMA client's ability to terminate for poor performance. A manager is on their best negotiating ground when they make it clear to the client that liquidity at the SMA cannot have a negative impact on the commingled fund or the manager's other clients. This is not just about protecting fees, it's about protecting the manager's broader business and making sure the manager can effectively exercise its fiduciary obligations to all clients.
A good approach is to get the SMA client to agree that, outside of the situation where the manager has been a "bad actor," the manager should have the right to liquidate the assets. This certainly mitigates the potential blowback to the fund or other clients. This can be accomplished by setting out a liquidation plan up front, often at a lower fee, or getting the client to agree to only liquidate certain positions as directed by the manager.
WB: Has the delay of the DOL fiduciary rule had any impact on the use of SMAs versus investments in funds?
BC: When a manager takes on an SMA, they are a fiduciary to the SMA client directly. If an SMA client is an IRA, the manager would always be treated as a fiduciary to the IRA under the Investment Advisers Act, whether or not the fiduciary rule went into effect. There is some uncertainty as to whether a manager of a fund has fiduciary obligations to investors in the fund. There was some question as to whether the fiduciary rule would result in the manager of a commingled fund being treated as a fiduciary to an IRA (or other investor that is subject to Section 4975 of the tax code but is not subject to ERISA) even if the fund stayed below the 25% "plan assets" limit and there were no fees paid to the manager on the sale of fund interests. We will not know unless DOL provides guidance how to think about this issue, which seems increasingly unlikely now that the rule has been delayed and could be revised or rescinded.
This article has been prepared for informational purposes only and does not constitute legal advice. This information is not intended to create, and the receipt of it does not constitute, a lawyer-client relationship. Readers should not act upon this without seeking advice from professional advisers. The content therein does not reflect the views of Sidley Austin LLP.
Money Market Reform 5 Months In: What We Are (Not) Seeing
Sean McCormack, Director, Funding Capital and Liquidity, Wells Fargo Securities
In the days leading up to the October 2016 implementation of Money Market Reform, conventional wisdom held that the surviving Prime funds would quickly look to extend maturity and provide some relief to financial institutions paying inflated rates on a dwindling issuance of commercial paper. Then the rising rates associated with extended durations, especially when compared to sparse returns of the Government funds to which investors had fled, would quickly lure those investors back as they became comfortable with the barely noticeable fluctuation in NAVs.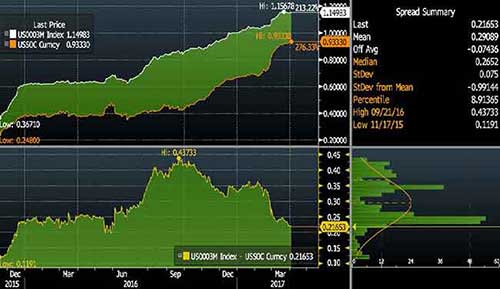 Source: Bloomberg Charts
Not so fast.
Prime funds' AUM remain near the lows of October 2016, having only regained approximately $25 billion of the roughly $1.0 trillion lost in the 12 months leading up to mid-October. Balances remain firmly rooted below $400 billion as of March 30th.
Meanwhile Government funds remain near all-time highs of $2.2 trillion . However, the spread between Prime and Government funds returns have behaved as expected. After running close to normal historical average of @ 16 basis points in the months leading up to the implementation, the spread has now increased to 35-40 basis points during Q1 . 3M Libor OIS spreads have also nearly halved from the 2016 Q3 peak.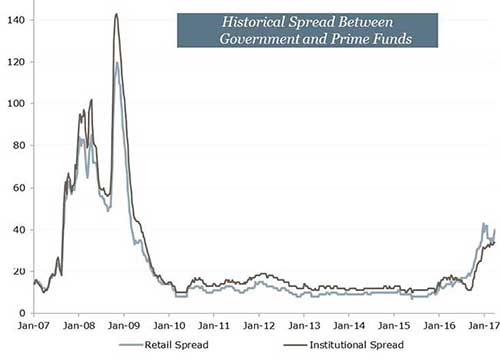 Source: Wells Fargo Securities, LLC, Fixed Income Market & Portfolio Strategy and iMoneyNet
So the shakeup in short-term dollar markets continues and the question of what will replace this longstanding funding source for financial institutions, in the US and abroad, remains as relevant as it was 17 months ago when the exodus from Prime funds began. We'll continue to watch intently.
Investor Trends
The Data Driven Director
Contributing Author: John D'Agostino, Managing Director, DMS Governance Ltd.
John D'Agostino is a Managing Director at DMS and part of the firm's fund governance leadership team. In addition to serving on Boards, John liaises with large institutional investors and global regulators to develop governance best practices.
Few topics in the alternative investment lexicon alternate as reliably between dispassion and hyperbole as fund governance. Like David Hasselhoff, it's taken quite seriously in Europe, somewhat less-so in the United States. Like the VIX, interest in it tracks volatility/fear.
Yet unlike the VIX, trends in fund governance have invariably moved in one direction – higher. Specifically, investors are increasingly expecting more Director oversight, responsibility and involvement, particularly in distressed scenarios.
The Cayman Islands Monetary Authority (CIMA) and the Central Bank of Ireland (CBI) provide guidance specific to private fund governance. However, the majority of commentary on fund governance in the U.S. is qualitative in nature – borrowing from the massive body of legal and philosophical precedent in the public fund governance space and a general sense of what feels right.
These qualitative assessments have a fatal flaw, namely they approach the topic from a biased single stakeholder point of view when governance, by nature, is a process of managing multi-variable stakeholder concerns/conflicts
Investor trends for governance tend to mirror fee trends – namely, investors always want more (i.e. lower/more aligned fees and more governance). This article outlines the predominant fund governance trends and what they mean for a manager, using proprietary DMS data from over 2500 funds. The data set is widely diversified among strategies and AUM with extensive institutional polling including over 30 large institutional investors.
Trend: Investors want more engaged boards.
What This Means: Investors expect Directors to engage with managers more actively - both directly and indirectly - and adopt more of a monitoring function for investment and operations.
Observation: The function, responsibilities and authority of a fund's Board is proscribed by the fund's offering documents, generally the articles of association, sometimes also the OM or LPA. This language, often overlooked during due diligence and initial investment negotiations in lieu of fee discounts, liquidity options and transparency requests, is essential as it governs the powers and authorities directors have to represent investors in distressed scenarios. Despite this importance, few investors focus on the language during due diligence. Investors, particularly seed or early stage, who have an interest in more engaged Boards, have every option prior to investment to ask for robust governance authority around decisions like side letters, valuation methodology, terms waivers, related party transactions and other potential important governance items.
That being said, data shows us that Board interaction is going up, if email and document traffic is an effective indicator:
Source: DMS Governance Ltd.
It's important to note that this increase in email traffic is multiples above the overall increase in worldwide email traffic for the same period (~5.22%) so around 15.5% of the increased Director interaction is pure email alpha.
Trend: Investors demand more Board accountability.
What This Means: Investors want Directors to have more skin in the game – in other words – more risk exposure.
Observation: From both a regulatory and practical perspective, Director risk has steadily increased. New rules from the CIMA grant new regulatory powers to censure and fine Directors in violation of CIMA standards for best practice. Several high-profile cases in the U.S. and Europe remind Directors of the litigation risk they face when they sign on as a fiduciary. Investors, especially pension investors, are under constant pressure to ensure they are safeguarding assets as fiduciaries themselves, to the point where investment objectives and evaluation may be different between trustees and investment staff. Based on a recent survey of 30 U.S. pensions, there is significant distance between how Trustees and CIOs view hedge funds. Trustees and CIOs view the risk and benefits of hedge funds differently, with Trustees focused more on the public relations perception: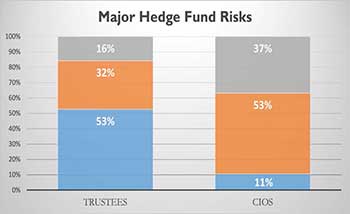 Source: DMS Governance Ltd.
Partly in response, hedge fund Boards have steadily moved towards a majority independent model in line with investor interest.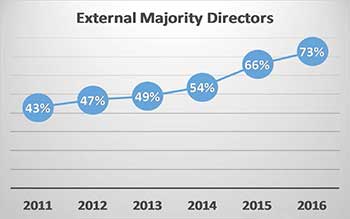 Source: DMS Governance Ltd.
Trend: Investors demand more reporting and insight into the fund governance process.
What This Means: Investors seek more direct information about Board activities including reporting, transcripts, observation rights and even direct participation.
Observation: Generally, when we discuss a Board's responsibility the topic is depth of Board function, however breadth of Board function is equally important. Around 30% of funds do not have Directors at the Master Fund level, effectively limiting governance control on behalf of investors in the feeder funds. It's important to note that a much lower percentage of new fund launches above 100M AUM lack independent governance at the Master Level.
Managers running complex structures should prepare for an increase in investor demand for independent directors at both the offshore and onshore levels. For example, independent directors on the offshore fund would ideally sit on the board of the onshore LP structure and the Board of Managers of the domestic GP. Additionally, investors are growing increasingly cautious of blocker vehicles that do not have majority GP ownership of voting shares, thus rendering the feeder fund control moot at the Master Level regardless of independence.
While interests and pressures push governance into more and deeper involvement and accountability, Director fees have fallen dramatically. Given the cost of D&O insurance for typical litigation fees (approximately $2M policy for litigation defense which costs $20k in premiums), insurance premiums are now equal to or greater than average Director fees. These variables should be considered when considering expectations for proper governance.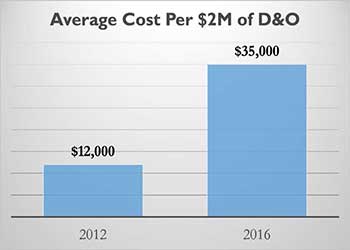 Source: DMS Governance Ltd.
The Changing Capital Raising Landscape: Part I
Jasmaer Sandu speaks with Jonathan Koerner, Partner, Head of Implementation, Albourne
The past few years of challenged hedge fund performance has resulted in investors having greater negotiating power with managers. As investors have pushed back and demanded more favorable terms, the traditional "2 and 20" model of 2% management fees and 20% incentive fees has come under increasing pressure. Investor demands extend beyond a compression in fees to a changing dynamic in what can be expected in the structure of the investment. It is now becoming more common to see shorter lockups, higher hurdle rates, longer crystallization periods and other clauses that make the investment terms more favorable for the investor. The new funding environment serves the dual purpose of increasing manager and investor interest alignment while also increasing the share of alpha that the investor potentially receives. We interviewed Jonathan Koerner from Albourne to learn more about one of the new fee structures that has arisen to address the subdued performance environment, the 1 or 30 fee model. ]]>