Since 1929, Wells Fargo Shareowner Services (WFSS) has been the transfer agent division of Wells Fargo Bank, N.A. Offering a complete array of services, WFSS services more than 850 issuers and their shareholders.
Our team of dedicated professionals provides:
Stock transfer agent services

Registrar and transfer agent

Proxy and annual meeting services
Corporate action services

Paying agent
Exchange agent
Initial and secondary public offerings
Investment plan services

Dividend reinvestment plans
Direct purchase plans
Employee stock purchase plans
Dividend disbursements
Waiver discount feature
Why Wells Fargo?
Clients have rated us as the industry's best service provider for 16 of the past 17 years.
We view our relationship with you as long term, and will work with you over time to support your needs — Wells Fargo Shareowner Services is a cornerstone product of Wells Fargo, and we are dedicated to remaining an industry leader.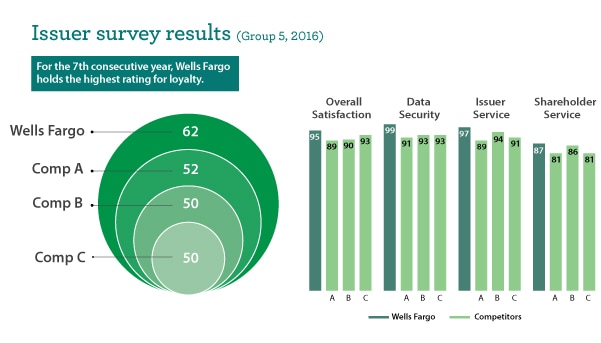 Source: Data gathered from Group 5, 2015 Shareholder Service Benchmark Study-Transfer Agent Services
Our team of professionals average more than 20 years in the industry, and are well versed in the intricacies of today's changing markets and regulations. We guide you through your stock transfer decisions with assurance, whether you're switching transfer agents, executing a complex corporate action, or taking your company public.
When you select Wells Fargo Shareowner Services, you enlist the resources of one of the world's largest financial institutions. 
Vast in-house expertise in trading and funds management, as well as enterprise capabilities in IT systems, printing services, and more
Stringent compliance , privacy, and business continuity preparedness
Technology support and guidance from Wells Fargo Internet services

Best corporate/institutional digital bank in the U.S. (World's best corporate/institutional digital banks in North America, 2015, Global Finance magazine)
#1 for clear and simple security and privacy information, extensive money management tools, and wide variety of alerts – 2014 (U.S. online banking benchmark, 2015 Forrester Research)