Selecting a transfer agent is an important business decision that reflects your commitment to maintaining and fostering shareowner relations. Wells Fargo Shareowner Services has been the stock transfer unit of Wells Fargo since 1929 and is an industry leader in meeting shareowner needs. We service more than 500 issuers and their millions of shareholders with:
Global cash capabilities
Innovative technology
Unparalleled risk controls
Customized solutions 
Because Wells Fargo is one of the U.S.'s largest financial institutions, we have the strength to help you meet the needs of your company now and to help you prepare for inevitable changes that will occur in your business's future.
For more information about our services, download our brochure (PDF).
Why Wells Fargo?
Shareowner Services has a long-standing reputation of being a trusted provider who enhances our customers' businesses. Clients have rated us as the industry's best service provider for 16 of the past 17 years. We view our relationship with you as long term, and will work with you over time to support your needs — Wells Fargo Shareowner Services is a cornerstone product of Wells Fargo, and we are dedicated to remaining an industry leader.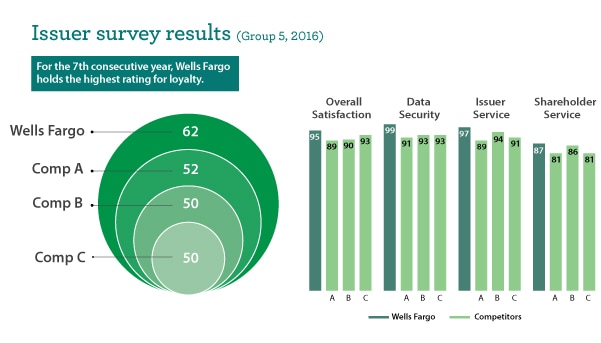 Our team of professionals average more than 20 years in the industry, and are well versed in the intricacies of today's changing markets and regulations. We guide you through your stock transfer decisions with assurance, whether you're switching transfer agents, executing a complex corporate action, or taking your company public.
When you select Wells Fargo Shareowner Services, you enlist the resources of one of the world's largest and strongest financial institutions. 
Wells Fargo & Company (NYSE: WFC) is a diversified, community-based financial services company with $1.8 trillion in assets.
Wells Fargo provides banking, insurance, investments, mortgage, and consumer and commercial finance through 8,700 locations, 13,000 ATMs, wellsfargo.com, and mobile banking. 
We focus critical resources to ensure data security, privacy, and fraud protection controls. Wells Fargo is ranked #1 for clear and simple security and privacy information, extensive money management tools, and wide variety of alerts, and was named best corporate/ institutional digital bank in the U.S.