Wells Fargo has locations around the world that offer Financial Institutions, Supranationals, Sovereigns, and Agencies a broad range of products and services.
Locations that service U.S. financial institutions
For services for U.S. financial institutions, view U.S. financial institutions services locations and contacts.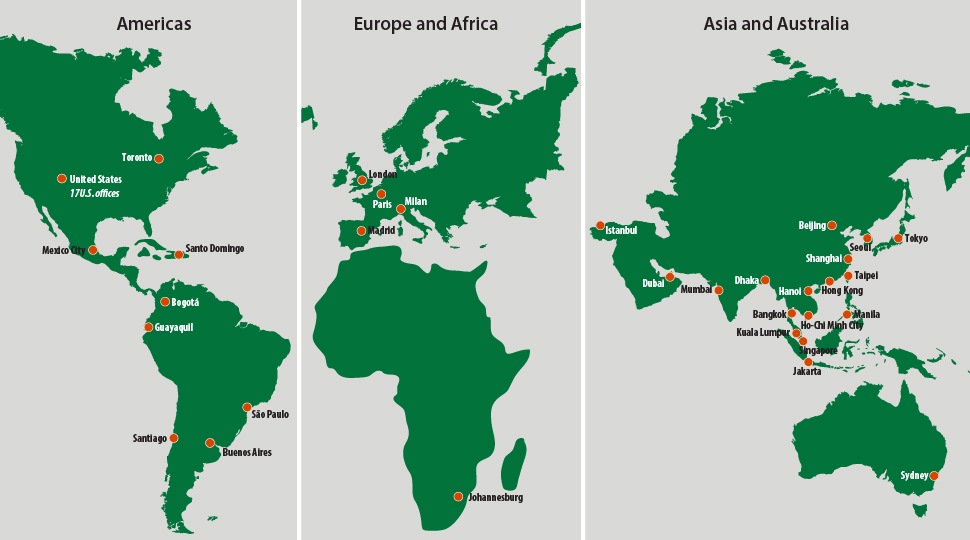 Consumer and small business banking outside of the U.S.
Wells Fargo does not have offices outside of the U.S. that provide services to consumer or small business customers. For assistance with your accounts when traveling internationally, refer to our international access codes for phone numbers, or visit our travel resource center.
Contact information for locations that service Financial Institutions, Supranationals, Sovereigns, and Agencies outside of the U.S.
Country
City
Address
Phone/Fax number
Routing number info
China
Beijing


F721-723, Windland Intl Finance Center
7 Financial Street,
Xicheng Dist., Beijing 100033, China

Phone: +8610-5940 7888
Fax: +8610-6517-9097

N/A

Shanghai

Unit 30, 32F, Shanghai World Financial Center
100 Century Avenue
Pudong New Area
Shanghai 200120, China

Phone: 86-21-2892-7700
Fax: 86-21-6859-6832

SWIFT BIC: PNBPCNSH
Germany
Frankfurt

Wells Fargo Bank International, Frankfurt Branch
An der Hauptwache 7
60313 Frankfurt am Main
Germany

N/A


N/A
Hong Kong
Hong Kong

27/F, Three Pacific Place
1 Queen's Road East
Hong Kong

Phone: 852-2509-0888
Fax: 852-2845-2073

SWIFT BIC: PNBPHKHH
Reuters: WAHK (FX and MM)

Japan
Tokyo

Marunouchi Trust Main Tower
24th Floor
1-8-3, Marunouchi
Chiyoda-ku, Tokyo 100-0005
Japan

Phone: 81-3-4330-6000
Fax: 81-3-4330-6020

SWIFT BIC: PNBPJPJX
Korea
Seoul

Contact: Oak Kaarma
3rd Floor - Hancom Building
21, Sogong-dong, Chung-ku
Seoul 100-070, Korea

Phone: 82-2-3706-3100
Fax: 82-2-3706-3141

SWIFT BIC: PNBPKRSX
Singapore
Singapore

80 Raffles Place
#26-20/21 UOB Plaza 2
Singapore 048624

Phone: 65-6395-2525
Fax: 65-6395-2526

N/A
Taiwan
Taipei

Contact: Yu-Hsiang (Michael) Lin
17th Floor
44 Chung Shan North Road
Sec. 2
Taipei, Taiwan

Phone: 886-2-8175-8688
Fax: 886-2-2567-8516

SWIFT BIC: PNBPTWTP
United Arab Emirates
Dubai

Dubai International Financial Center Branch
Gate Village 5
Office 111, Level 1
PO Box 53089
DIFC
Dubai, United Arab Emirates

Phone: + 971 4 5114000
N/A
United Kingdom
London

One Plantation Place
30 Fenchurch Street
London EC3M 3BD, United Kingdom

Phone: 44-20-7149-8100
Fax: 44-20-7149-8393

SWIFT BIC: PNBPGB2L
Reuters: WFLO (FX and MM)
General inquiries
U.S. toll-free phone number
Email address
Contact form
Hours of operation

877-593-2468

internationalconnections@wellsfargo.com
View form

Monday through Friday
8 a.m. to 8 p.m. Eastern Time
We answer all inquiries within one business day of receipt.