As the current economic expansion approaches the longest on record, we consider just how much longer the good times can last. Our base case sees the economy continuing to expand, albeit with some slowing, through 2020. But we also note factors that could either prolong — or derail — this expansion over the next couple of years.
Speakers
Jay Bryson, Ph.D.
Managing Director
Acting Chief Economist
Mark Vitner
Managing Director
Senior Economist
Nick Bennenbroek
Managing Director
Head of Currency Strategy
Passion and purpose
Hear how a college course helped Global Economist Jay Bryson find his calling.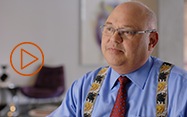 Candy bars and an allowance
Hear how Senior Economist Mark Vitner discovered economics at an early age.