When you're a kid, there isn't much that beats a day at the playground. But for one neighborhood in Boston, a day at the Unity Park playground was something that hadn't been seen for quite a while. 
Once a refreshing patch of peace in a highly-concentrated and hectic urban neighborhood, the park had been long neglected, and instead of a much-needed place of play for children, became an abandoned lot, a difficult reminder of better days. 
While there was another park not too far away, it was beyond the two main commuting arteries of the town. Too busy and too dangerous, the heavily trafficked roads prevented children from going to the park on their own, leaving it as unreachable as though in another state. 
When three loaded weapons were confiscated by police officers in 2017 from a group drinking in the park, the community realized something had to be done. 
As luck would have it, Wells Fargo was in the process of looking to invest $100,000 in a community project as part of its nationwide NeighborhoodLIFT program. While Wells Fargo doesn't have any retail bank branches in the Boston area, it does employ around 800 team members in Boston across several businesses, and had already invested more than $10M in Massachusetts communities in 2018.
"We worked with the City of Boston to help identify a neighborhood that could use a beautiful space," says Vice President of Community Relations and Corporate Communications, Briana Curran. "It couldn't get any better than Unity Park."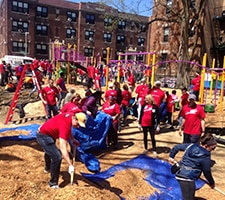 Over 125 volunteers from Wells Fargo were joined by 75 community volunteers from the City of Boston, local high schools, other nonprofit organizations, including KaBOOM!—a national non-profit specializing in transforming city sites into playgrounds—and the Sonoma Maple Schuyler Tenants Association to bring the park back to life.  
It was the tenant association that provided the only other local place for neighborhood kids to play—a community room in the basement of a close-by apartment building.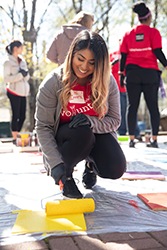 After nine months of planning and one bright spring day of building, Unity Park was reborn. "Wells Fargo isn't just here today," said Boston Mayor Martin J. Walsh at the ribbon cutting. "They're invested in our city in so many projects and in so many ways, very quietly. We love you for what you do for us."
Though built for the neighborhood kids, Unity Park is now attracting another element as well. "There seems to be a lot more community involvement," says Cesar Camacho, a local resident and Wells Fargo team member who brings his own young children to the park almost every day. "There's a new feeling of ownership among all the members of the community."
And those members are the ones who are now maintaining the park themselves. Surrounding homes have been renovated and there seems, according to Camacho, a renewed sense of pride in the neighborhood. 
"You actually see kids now," he continued. "You never saw kids unless they were waiting for the school bus." But now you can see them coming and going, playing in and around the park, filling the streets of the now vibrant neighborhood and just being…kids. So many kids in fact that residents are having to contemplate something they never would have thought necessary just a short time ago—speed bumps.