Supplier Finance services address the needs of large corporations with wide supplier networks. Our services can help you lower the cost of capital for domestic and international trading partners, while meeting your target payables terms and cost reduction objectives.
How Supplier Finance works
Through the program buyers can either negotiate extended payment terms or a cost of goods sold reduction in return for giving suppliers access to lower cost financing. We provide suppliers with a discounted early payment at an improved rate based on the buyer's credit risk.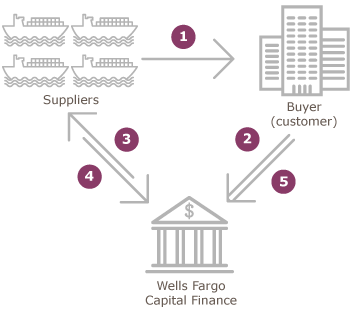 Supplier ships goods and invoice to buyer (Day 1)
Buyer approved invoice for payment (Day 5)
Wells Fargo Capital Finance notifies supplier of invoice approval (Day 5)
Supplier sells invoice to Wells Fargo Capital Finance at a discount to receive immediate payment (Day 5)
Buyer pays Wells Fargo Capital Finance invoice amount on due date (Day 90)
Potential benefits for buyers
Reduce cost of goods sold
Increase days payables outstanding
Gain cash flow certainty
Strengthen financial supply chain
Improve relationships with suppliers
Reduce supply chain financing costs
Potential benefits for suppliers
Gain access to an attractive liquidity management tool through the early payment option
Increase cash flow, reduce accounts receivable and days sales outstanding
Reduce capital costs (such as accounts receivable carrying costs)
Strengthen financial position
Receive full payment transparency
Receive information and payment in a format that best suits your needs