With a Sales Finance program, your company enters into a contract with Wells Fargo Capital Finance to sell receivables related to business you do with investment-grade or near-investment-grade buyers (key accounts purchase) or risk-pooled receivables portfolios (portfolio purchase).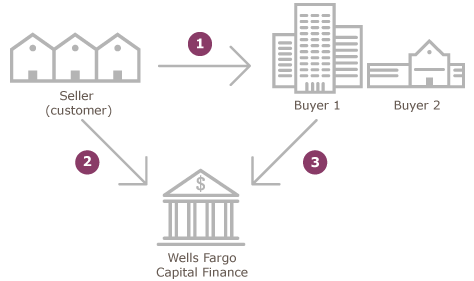 Seller ships goods and invoices to buyers (Day 1)
Wells Fargo Capital Finance purchases invoice from the seller (Day 5)
Buyer pays Wells Fargo Capital Finance invoice amounts on their due date (Day 90)
The image above shows the relationship between the seller, buyer, and Wells Fargo. In this example, the seller ships the goods to the buyer and generates an invoice on Day 1. Wells Fargo buys the invoice and pays the seller on Day 5. The buyer then pays Wells Fargo on the invoice due date, in this example 90 days after the product is purchased.
With flexible and easy setup, sales finance programs with Wells Fargo may help you:
Mitigate risk
Enhance working capital
Optimize your balance sheet
Improve supply chain liquidity
Offer extended terms to customers
Diversify capital sources
View transactions through an automated platform