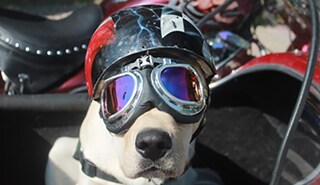 Among the 73 bikers taking part in the Ride for Dog Guides 2019 was Wells Fargo client Rob Stanley of Samuel, Son & Co., Limited, on his new 2020 Yamaha Venture.
Starting out at the Oakville Dog Guide training school and ending at the puppy breeding facility in Breslau, the ride raises funds for the Lions Foundation of Canada which has been providing Dog Guides since 1983. These Dog Guides are provided at no cost to eligible Canadians with a medical or physical disability. Currently, the foundation trains Dog Guides in seven programs: vision, hearing, service, seizure response, autism assistance, diabetic alert, and support for professional agencies.
As Rob says, "What could be better than seeing someone helped by a Dog Guide, enjoying a better quality of life, companionship, and greater independence?"
Having raised funds previously for the ride, Rob – a Vice President and Treasurer - noticed that the organization receives no government funding and relies 100% on individual and corporate donations. Rob approached Wells Fargo Middle Market Banking Eastern Canada's Eric Borromeo to request a corporate sponsorship for the ride. Eric saw the great value in the organization and thanks to his efforts, Wells Fargo donated $2,500 in support of the charity and the work it does across Canada.
"It takes $25,000 to train a dog from birth to placement and we place approximately 200 dogs a year. Without donations, there would be no Dog Guides," says Maria Galindo, Communications Manager for the Lions Foundation of Canada Dog Guides. "The donations help offset the expenses of organizing the ride, so that all the funds raised by the participants go to the dogs' training."
To thank Rob for his efforts to help the charity, he has received a very special honour: a certificate declaring that the next Dog Guide entering the program will be named "Stanley" and he will be invited to meet the standard poodle puppy.
2021 update
The puppy named Stanley is a fully grown Dog Guide now, and is helping people in need. His namesake, Rob Stanley of Samuel, Son & Co., Limited, continues to raise awareness for this charity and once again joined in the Ride for Dog Guides in 2020 and 2021. Wells Fargo has been a corporate sponsor for 3 years, supporting Rob to raise over $67,000 in total over the years. Due to social distancing rules, the organizers requested participants ride alone, but Rob and a group of five riders rode the route as planned this year, and the spirit and caring was as strong as ever.