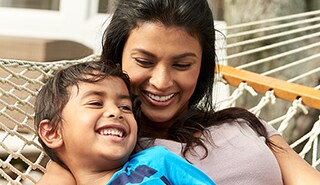 After the first COVID-19 cases hit Toronto, a Wells Fargo employee saw a growing need for mental health support as the pandemic brought fear and panic to her hometown.
Christine Chen noted rising anxiety levels among her friends, family, and colleagues as uncertainty began to take hold. She observed that people who were typically sensible and level-headed began to stockpile food and medicines and make what might be considered irrational decisions.
"I reached out to Anxiety Canada after watching an interview with the CEO and suggested that they host webinars as part of their coping resources," said Christine. Not only did Anxiety Canada agree with her suggestion they asked her to lead the effort.
Anxiety Canada provides free online, self-help, and evidence-based resources on anxiety including the MindShiftTM CBT app, which is designed to help manage anxiety. The nonprofit organization provides free online courses to help people relax and be mindful, develop more effective ways of thinking, and take charge of anxiety.
Christine, who is a member of Wells Fargo's Risk Management team, consulted with Anxiety Canada's mental health experts to deliver the information. Because she is savvy with technology, producing webinars is basically second nature.
"One thing that I love about my volunteer work for Anxiety Canada is that it is remote. So even during Ontario's Stay at Home order, I can continue to help my community and that is very important to me," Christine said.
To further support Christine's efforts, the Wells Fargo Foundation donated $15,000 CAD through the United Way to support COVID-19 relief efforts by Anxiety Canada. 
The donation is part of Wells Fargo's commitment to distributing $175 million in donations to help address food, shelter, small business and housing stability, as well as to provide help to public health organizations around the world. 
"We are immensely proud of Christine and the initiative she took to make a difference in the lives of people across Canada," said Rick Valade, Canada and Latin America Regional President. 
In total, Wells Fargo donated $140,000 CAD to four Canadian charities to support COVID-19 relief. Funds also went to United Way Canada, Food Banks Canada, and TELUS Friendly Futures Foundation.
"Nonprofits are the heartbeat of our communities where we live and work. They provide critical social services as well as employment in the community, yet we know many are struggling. We want to help the nonprofit community and the most vulnerable in our communities in this challenging moment," said Valade.
Christine said she did not let the fact that working on this type of project was a new experience get in her way. Instead, she focused on something that comes naturally to her – connecting with people through virtual channels.
"We can do so much good when we simply raise our hands. I let go of fear and, in turn, am helping others manage their fear and anxieties," she said.