Our most popular checking account for managing day-to-day financial needs

Bank conveniently
Most popular account with access to mobile deposit, Bill Pay, Zelle®, and contactless debit card

Write checks
Need to write checks? Everyday Checking makes it simple
Enjoy peace of mind
We've got you covered with optional Overdraft Protection

Make the grade
Designed with mobile in mind, this standard checking account is also ideal for college students
Everyday Checking fees and details

4.8/5 Stars on the App Store and 4.8/5 Stars on Google Play as of July 14th 2023
Skip the lines and deposit checks right from your smartphone
Add debit and credit cards to your mobile device to tap and pay
Send and receive money in minutes
Pay bills from nearly anywhere
Sign on to the mobile app with your fingerprint or face
Turn credit and debit cards on or off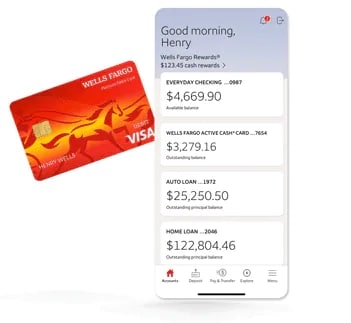 Plus all the features of a Wells Fargo checking account

Wells Fargo Worldwide Military Banking
offers convenient access to your accounts with services, tools, and resources to help you manage your finances.
Compare your checking account options
Customize your banking experience

Wells Fargo credit cards – choose a credit card that fits your life

Way2Save® Savings – start saving money faster with a linked Wells Fargo savings account


Checking FAQs
How do I open an account?
You can apply online or in person:
In just minutes you can apply through

Wells Fargo

Online® for a checking or savings account, credit card or loan.
Or visit a

Wells Fargo

branch near you.
How do I find my routing and account numbers?
How do I access my Wells Fargo accounts online?
Enroll in Wells Fargo Online from your desktop or mobile device for secure online access to your accounts. Once you've enrolled, you'll receive an email confirmation, and you'll be ready to sign on and manage your accounts.
See more Banking FAQs