Your personal checking account may qualify for the Direct Deposit Advance service when:
Your account receives a direct deposit of $200 or more every 35 days. This is considered a qualified deposit;
Your account has completed a full statement cycle with a qualified deposit;
Your account is in good standing.
At each statement cycle, accounts are reviewed automatically for qualification. No application or credit evaluation is necessary.
To see if you've qualified, look for the Direct Deposit Advance section on your checking account statement that you receive via mail or online. If you qualify, your available credit limit will be displayed in this section. You may also call Wells Fargo Phone Bank if you have any questions.
If you qualify, here is information about the credit limit:
Your credit limit is based on half (50%) of your average qualified deposit(s) received in a statement period rounded up to the nearest $20, or a maximum of $500, whichever is less. Example.
Your credit limit may not exceed $260 in your first month of eligibility or after a lapse in qualified direct deposit income.
This is a line of credit, not a loan. You may make advances as often as you like in increments of $20 up to your available credit limit.
Example of your Direct Deposit Advance Statement: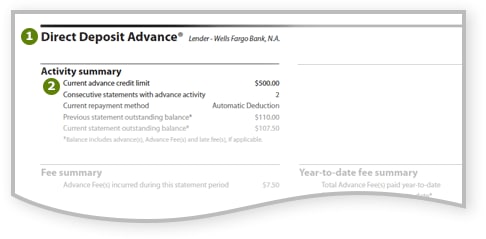 1. Direct Deposit Advance Section
If your account qualifies, this section will appear within your personal checking account statement.
2. Current Advance Credit Limit
The credit limit for the statement period.