Call Wells Fargo Phone Bank℠ available 24/7, or
Sign on at wellsfargo.com
If you choose to take an advance online, select the account which receives your qualified direct deposit and do the following:
1. Select the Direct Deposit Advance link located on your Account Activity page.

2.
After you review your balance summary, enter the amount you want to advance. Choose "Help" if you have questions.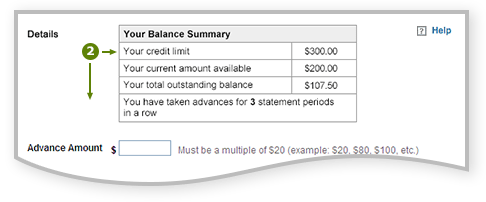 3.
Verify your advance amount and the calculated Advance Fee and select submit.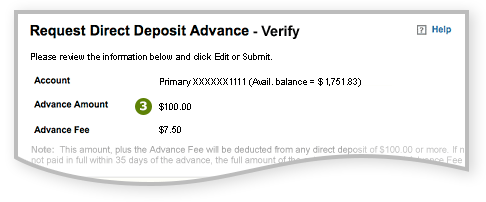 4.
Once you select submit, the advance amount is automatically deposited to your account and will be reflected in your available balance. You can use your advance just as you would any funds in your checking account as long as your account has a positive balance.