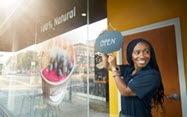 By now, we all have been living through the realities of the coronavirus and its severity, feeling elation when the cases drop in number and anxiety when they start to rise. If this disease follows a similar pattern of the 1918 flu pandemic, the foreseeable future will be one of recurring outbreaks, tempered by controlled reaction. Given the global interconnectedness of business, systematic and cooperative measures for public health could lead to a "next normal" of improved economic health as well. Read more in this article by Monica Cole, Executive Vice President and division executive for Wells Fargo Commercial Bank's Food, Beverage and Agribusiness.
Resources for Small Business
Gain market and competitor intelligence to help grow your business.
Information and views provided are general in nature and are not legal, tax, or investment advice. Wells Fargo makes no warranties as to accuracy or completeness of information, including but not limited to information provided by third parties; does not endorse any non-Wells Fargo companies, products, or services described here; and takes no liability for your use of this information. Information and suggestions regarding business risk management and safeguards do not necessarily represent Wells Fargo's business practices or experience. Please contact your own legal, tax, or financial advisors regarding your specific business needs before taking any action based upon this information.
All credit decisions are subject to approval. For SBA loan products, SBA eligibility is also required. 
Equal Housing Lender