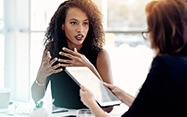 Sharpening your negotiating skills can help you strike deals with your vendors, clients, suppliers, landlord and employees. This worksheet can help you prepare for and think about deals differently, so you can more easily negotiate. 
Download negotiations worksheet (PDF)
Resources for Small Business
Gain market and competitor intelligence to help grow your business.
Information and views provided are general in nature and are not legal, tax, or investment advice. Wells Fargo makes no warranties as to accuracy or completeness of information, including but not limited to information provided by third parties; does not endorse any non-Wells Fargo companies, products, or services described here; and takes no liability for your use of this information. Information and suggestions regarding business risk management and safeguards do not necessarily represent Wells Fargo's business practices or experience. Please contact your own legal, tax, or financial advisors regarding your specific business needs before taking any action based upon this information.
All credit decisions are subject to approval. For SBA loan products, SBA eligibility is also required. 
Equal Housing Lender