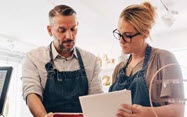 Having a check deposit held can be a frustrating experience when you desire to have the funds available quickly for your financial needs. Understanding the reasons why we may hold a check deposit, how you get notified, and what it means to your cash flow can help you avoid fees and feel more confident. 
Most of the time, when you deposit a check, a portion of the funds is made available to your account on the same day, with the remainder becoming available on the next business day. Sometimes there are circumstances that cause a check deposit to be placed on a temporary hold of up to seven business days. We place the hold to protect you from fraud, overdrafts, or fees that may occur if we were to make funds available immediately and the check is returned to you. Explore the "Funds availability policy" section in the Deposit Account Agreement for more information on check deposits.
How can you tell if a check deposit has been placed on a hold? 
Deposit holds usually get placed at the time of deposit. We will notify you when the deposit amount will be available in your account in a variety of ways. If your check was deposited at a branch or ATM, your check receipt will include the date when the check amount will be available in your account. Additionally, you can receive emails of your check deposit receipt and updates of your account activity when you sign up for Wells Fargo Business Online® and set up alerts. If we place a deposit hold after the check was deposited, we will mail a letter to you with information related to the hold. 
What are some common reasons for deposit holds? 
When your check deposit is placed on a hold, you may be wondering why, or if, it's necessary. Here are a few common reasons for deposit holds. 
The need to verify sufficient funds. Sometimes, when a check is deposited, we may need to verify with the check writer's bank to ensure that the account has enough funds to cover the check amount before making all the funds available to you. This step can take up to seven business days and helps you avoid having to repay the check amount if there were insufficient funds in the check writer's account. 
A redeposit of a previously returned check. This may occur when a check that was previously returned due to insufficient funds is redeposited. To help avoid the possibility of the check being returned again and possibly incurring additional fees, we may place the deposit on hold as we attempt to verify if the check writer's account has sufficient funds. While this may take just a few days, it could last for up to seven business days. 
Deposits from new customers. When you open a new business checking account, we will focus on getting to understand your deposit routine and transaction activity. This helps us to protect you from overdrafts, returned checks, and associated fees during the first 30 days, which may cause a check deposit to be placed on a hold. 
Large-dollar deposits. We understand that from time to time you may receive checks greater than $5,525. To protect you from having to repay a large check amount if you were to use the funds and the check is returned unpaid, we may place a temporary hold to validate if the check writer's account has sufficient funds. A portion of the check deposit may be made available within two business days, while the rest of the funds become available after seven business days. 
Frequent overdrafts. A history of overdrafts may indicate that your account may not have sufficient funds for a variety of reasons. If you have experienced several overdrafts in the last six months, we may place a temporary hold of up to seven business days on your check deposit until the check has cleared.
Business Tools and services to help you manage your account and monitor deposit holds
Experiencing a deposit hold? We're here to help you through the process.
Wells Fargo Business Online allows you to check your account balances from a desktop or mobile device to know when your held funds will become available. You can also transfer funds from other Wells Fargo accounts, if needed, to fund your checking account.
Help stay on top of your cash flow by setting up alerts. Choose the alerts you'd like to receive by email, text message, or push notification. Alerts can help you avoid potential late fees and overdrafts with reminders to help you track your account transactions, including when your deposit has been made to your account. 
Set up Overdraft Protection to avoid overdraft on your checking account while the check deposit is being processed. 
Alternatives to check deposits 
Interested in a few ways to avoid deposit holds? 
Bank-to-bank transfers let you transfer money between business accounts at other U.S. financial institutions and your Wells Fargo account instead of using paper checks. Funds for this option will typically be available in your Wells Fargo account within one to two business days and are not subject to holds. 
Wire transfer is another fast method to receive funds electronically from personal and business accounts in the U.S. and 200+ countries. Typically, funds from a wire transfer are available and ready on the same day or next business day and are not subject to holds. Additional fees may apply. 
Customers can also receive payments via ACH. This is a good option if you're working with larger corporate accounts that are not subject to holds. Automated Clearing House (ACH) is a national funds transfer system that offers next-day funds availability and is deposited directly into your checking account.
Resources for Small Business
Have more questions on deposit holds? Explore our frequently asked questions.
The next business day may not be the next calendar date. For example, a deposit made on a weekend may be available on Tuesday morning even though no deposit hold was placed. 
Sign-up may be required. Availability may be affected by your mobile carrier's coverage area. Your mobile carrier's message and data rates may apply. 
The amount of $5,525 effective June 20, 2020, from the former amount of $5,000.
Subject to applicable Overdraft Protection transfer and/or advance fees and account eligibility requirements.
Information and views provided are general in nature and are not legal, tax, or investment advice. Wells Fargo makes no warranties as to accuracy or completeness of information, including but not limited to information provided by third parties; does not endorse any non-Wells Fargo companies, products, or services described here; and takes no liability for your use of this information. Information and suggestions regarding business risk management and safeguards do not necessarily represent Wells Fargo's business practices or experience. Please contact your own legal, tax, or financial advisors regarding your specific business needs before taking any action based upon this information.
All credit decisions are subject to approval. For SBA loan products, SBA eligibility is also required. 
Equal Housing Lender
Wells Fargo Bank, N.A. Member FDIC.