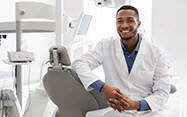 It's a competitive world out there, and as a dental practice owner, you can't afford to take the success of your practice for granted. A solid marketing program with regular advertising and promotional perks may help you stay a step ahead of the competition. But can the occasional practice upgrade also be used as a competitive strategy and a way to differentiate your dental practice from the one across town? The answer is yes, provided the outcome of your upgrade ultimately delivers improved services and a better environment for your patients. Following are several tips to help you differentiate your practice with your patients in mind.
Design for improved functionality
It's safe to say that every doctor wants a beautifully designed practice that makes a visual impact. But the practice that functions efficiently — enabling you to professionally administer to patients with minimal wait times and full protection of their privacy — is more important. By incorporating design elements in your upgrade that improve the functionality and work flow for you and your staff, you can help ensure your practice delivers a positive experience for your patients.
Be sure the receptionist can turn at least 90 degrees away from the reception area to conduct business. This helps safeguard the privacy of patient conversations and payment transactions.
Ensure that patients and staff are never left to negotiate fees within view or earshot of others in the office, whether in person or on the phone. 
Position treatment rooms so that they are not visible from public areas such as the greeting and reception areas.
Designate private office and break room space away from patient activity areas of the practice. 
Equip all treatment rooms identically so you and your team always know where to find equipment and supplies. 
Integrate technology throughout treatment areas for practice management, education, treatment co-diagnosis, and entertainment during procedures.
Create a technology investment plan
One way to effectively differentiate your practice while delivering the best possible care is with regular, well-planned equipment and technology purchases. Consider creating a technology investment plan that allows you to incorporate new equipment on a regular, timely basis.
Keep abreast of new technology developments through regular trade show attendance and periodic meetings with your equipment supplier to identify current and future needs.
Prioritize the technologies you wish to incorporate over the next three to five years, including software and hardware systems, digital equipment and tools, and utility systems that power your practice.
Create a plan to actively market your new technology investments to your patients so they are aware of the advanced processes and services you now offer.
Incorporate green materials and practices
With today's increased awareness of the environment, patients may appreciate a dental office that incorporates green materials and practices. And it's an impactful way to set your business apart from the competition. A green practice can be defined as follows:
In general, a green practice reduces consumption of energy and natural resources, and improves air quality.
Air quality is maximized through fresh air intake systems and efficient heating, ventilating and air conditioning (HVAC) systems.
Internal furnishings and coverings do not contribute to poor interior air quality through use of toxins during the manufacturing process, and may be certified by the GREENGUARD Institute.
Energy consumption is minimized through conservation methods such as the optimization of natural light, use of compact fluorescent lights (CFLs), and the minimization of active, electronic controls and systems.
Recycled and recyclable products are selected whenever possible.
Put your patients' well-being first
Ultimately, putting your patients first is one of the most effective ways to set your practice apart from the competition and to help you ensure your ongoing success. A patient-focused practice offers:
A friendly staff and welcoming environment
The best treatments and solutions available for each particular need
Genuine concern about each patient's well being
Flexibility in accommodating busy schedules and circumstances
So if it's time for an upgrade, look around and consider what you might bring to your practice to make it more appealing and efficient for your staff and patients. You may find it's a little more competitive as well.
Resources for Small Business
Request a workbook designed to help your practice succeed.
Information and views provided are general in nature and are not legal, tax, or investment advice. Wells Fargo makes no warranties as to accuracy or completeness of information, including but not limited to information provided by third parties; does not endorse any non-Wells Fargo companies, products, or services described here; and takes no liability for your use of this information. Information and suggestions regarding business risk management and safeguards do not necessarily represent Wells Fargo's business practices or experience. Please contact your own legal, tax, or financial advisors regarding your specific business needs before taking any action based upon this information.
All credit decisions are subject to approval. For SBA loan products, SBA eligibility is also required. 
Equal Housing Lender