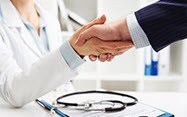 By the time you feel ready to sell your practice, it may be tempting to call your broker and hang a "For Sale" sign right away. But careful preparation can help you get the value you expect so you can retire as planned. In fact, experts recommend you start mapping out your transition five to 10 years before you expect to sell.
Here are a few things to start thinking about well before listing your practice with a broker.
1. Don't wait till you're mentally checked out
Work to sell your practice while you're still enthusiastic about doing the work and keeping trends stable. It's easy to become somewhat complacent once you've decided to move on, and often doctors don't realize how their time away can impact collections. Mindset can negatively impact revenue trends and lead to patient attrition as patients look for services that are now being referred out. The result could be a much lower practice value. In extreme cases, patient attrition can make it more difficult for an interested buyer to obtain acquisition financing.
Tip

Work as if you are just starting up your business — and even strive to slightly increase revenues. This may lead to better positioning of your practice and a potentially higher sale price.
2. Do keep your transition private
You may not want to share information about your planned sale until it is actually time to list your practice. That includes talking to staff, patients, and referring doctors. Making an announcement prematurely can scare away patients and staffers, who may have concerns about someone new taking over. And referring doctors may begin sending patients to a different practice while you are in transition. All of this can negatively impact your revenues and practice value. It can also give competitors an advantage at a time when you want to demonstrate your strengths to prospective buyers.
Tip

To find a broker without letting people know your plans, ask for referrals from a professional advisor or a brokers association that specializes in your specific industry.
3. Don't skimp on practice valuation services
Many doctors have in mind what they think their practice is worth, but sometimes their valuation may be overly optimistic due to personal attachment to the business. Overpricing can drag out the sales process or even turn off a potential buyer entirely.
That's why spending a few thousand dollars on a practice valuation may be one of the best investments you can make. This will generate a realistic market price for your practice, which could potentially result in a quicker, smoother transaction.
Consider using an independent certified healthcare business appraiser to complete your practice valuation.
Tip

Most appraisers will use a combination of methods to set the worth of your practice. Ask your appraiser to walk you through the process to ensure you understand the calculations and that you're satisfied with the result.
4. Do consider making a few updates
If you were planning to sell your home, you'd likely freshen it up a bit first. Use the same mindset to spruce up your practice before you put it on the market.
A fresh paint job and maybe some new window treatments or carpeting might be all that's needed to create a visual impact.
Equipment may not need to be replaced, but be sure to keep it clean and fully functional.
If you still use physical patient records, consider replacing them with one of today's practice-management software programs.
Update your website with impressive photos of your practice and well-written content.
Tip

Consider asking your appraiser and broker which practice updates or upgrades are most likely to pay off in terms of a higher practice valuation.
5. Don't stop marketing to new patients
A good strategy to help increase your practice value as you prepare for transition is to market to new patients during your last few years in practice. A modest investment in an ongoing marketing program — for example, $1,000 per month or $12,000 per year — can potentially be offset by the revenues generated via new patients. At the same time, your practice value may increase, as you will be able to demonstrate both an increasing patient base and revenue trend.
Tip

When it's time to sell, be ready to describe your patients in detail, including why they choose your practice, what they love about it, and what new target markets may be worth pursuing.
Of course, there are numerous additional steps to preparing your practice for sale and completing a successful transaction. But by following these suggested guidelines several years prior to sale, you can help maximize the appeal of your practice to potential buyers and protect its value as you move toward retirement.
Resources for Small Business
Request a workbook designed to help your practice succeed.
Information and views provided are general in nature and are not legal, tax, or investment advice. Wells Fargo makes no warranties as to accuracy or completeness of information, including but not limited to information provided by third parties; does not endorse any non-Wells Fargo companies, products, or services described here; and takes no liability for your use of this information. Information and suggestions regarding business risk management and safeguards do not necessarily represent Wells Fargo's business practices or experience. Please contact your own legal, tax, or financial advisors regarding your specific business needs before taking any action based upon this information.
All credit decisions are subject to approval. For SBA loan products, SBA eligibility is also required. 
Equal Housing Lender