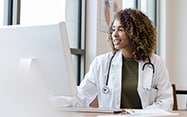 To be a successful practice owner requires more than top-notch medical skills and patient care strategies. It also requires leadership, marketing, and business savvy—things that are seldom taught in medical school. Here are five basic ideas that may help keep new practice owners on the right track for practice success.
Create a business plan
More than just a tool that may help you get support from your lender, a business plan sets the tone for your practice's identity and can provide a road map for achieving your short-term goals and long-term vision. Planning ahead gives you an internal compass to guide every decision. If it doesn't fit the plan, it might not be right for you. The plan can include a practice description, market analysis, and the profile of your desired patient/client. And don't forget to update your plan every few years with your practice team. Consider it a living document and a reference point to see if you are on track to achieve your goals. It's also a great training tool when onboarding new employees, as well as ensuring current employees are in alignment with you and your vision.
Be a people manager
As a practice owner, being a competent people manager can help you attract and retain a team that can help you run your practice effectively. Be sure to document practice policies and guidelines, which includes having an employee handbook. Including job descriptions can help the team understand their responsibilities and set expectations. And don't forget to communicate, including being a good listener. Create an environment where team members feel safe being open and honest. Learning from and listening to each other may help ensure your success, together.
Budget for aggressive marketing during your first two years
Consider setting a percent of revenue to go toward attracting new patients. Brand your practice with a name, logo and website that reflects your vision for the practice. Consider a full-blown grand opening celebration, inviting patients and others who might refer you, and get your team involved in the planning. E-mail newsletters are the new direct mail, so collect patient e-mail addresses, with their permission, from day one and use them to drive traffic to your website. Community-focused tactics — such as supporting local non-profits or a kids sports team — can also be an effective way to let neighbors know you have opened a practice.
Focus on creating cash flow
In order to grow your practice, it is essential that you collect enough revenue to cover your operating expenses, pay down debt, and deliver adequate profit. One tactic is to establish a recall system. At the end of each patient/client visit, schedule the next visit. That might include routine hygiene, vaccinations, or wellness exams. Work with your CPA or financial advisor to understand expenses, both fixed (i.e., those that do not change with practice activity, such as rent) and those that are variable expenses that will change in direct proportion with the patient activity, such as supplies.
Have a team of advisors
When you start out on your practice journey, selecting a team of advisors is amongst the most critical decisions of your career. Working with professionals such as attorneys, CPAs, and real estate brokers, to name a few, who specialize in your field of practice may help you save time and money. But don't stop when you open your doors. Members of that start-up team may be able to continue to offer help throughout your practice's life. Professional associations may also offer services to help you maintain and grow your practice.
Contact us to learn how market data and demographics may help you support your practice planning and decision making.
Resources for Small Business
Request a workbook designed to help your practice succeed.
Information and views provided are general in nature and are not legal, tax, or investment advice. Wells Fargo makes no warranties as to accuracy or completeness of information, including but not limited to information provided by third parties; does not endorse any non-Wells Fargo companies, products, or services described here; and takes no liability for your use of this information. Information and suggestions regarding business risk management and safeguards do not necessarily represent Wells Fargo's business practices or experience. Please contact your own legal, tax, or financial advisors regarding your specific business needs before taking any action based upon this information.
All credit decisions are subject to approval. For SBA loan products, SBA eligibility is also required. 
Equal Housing Lender